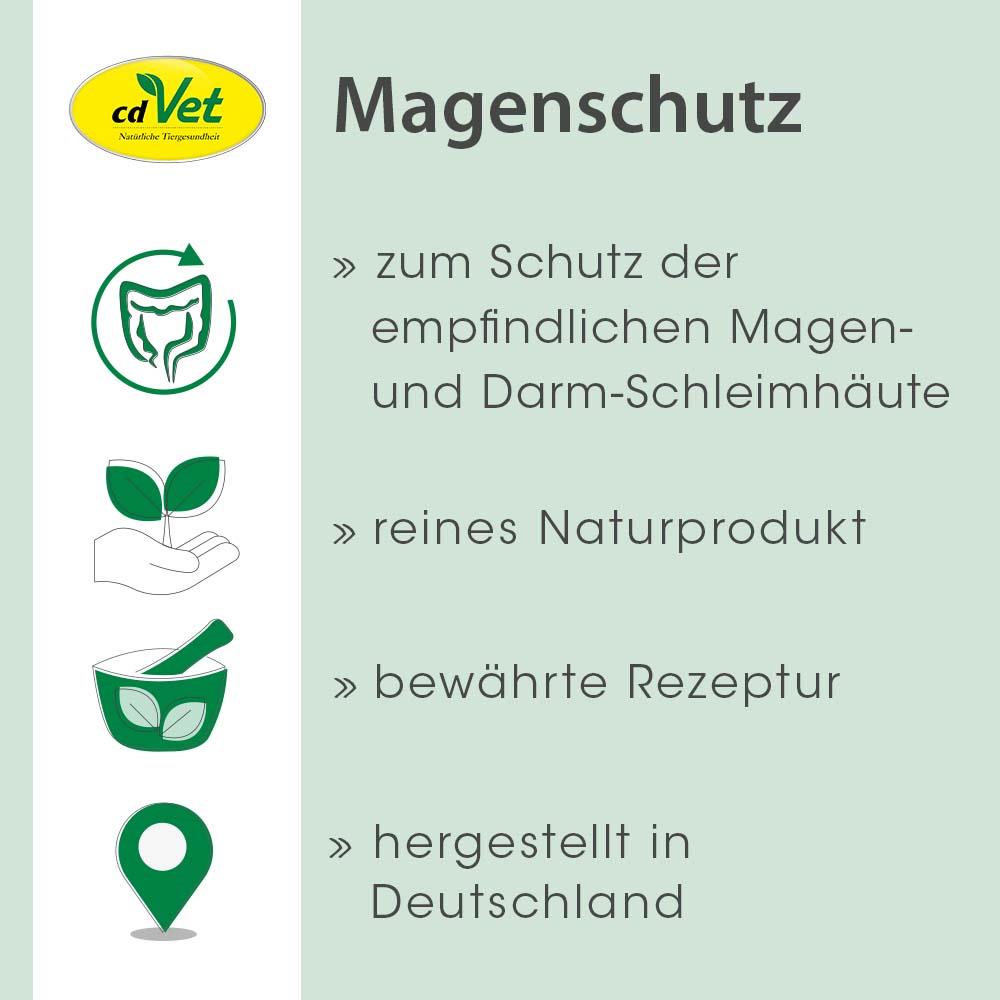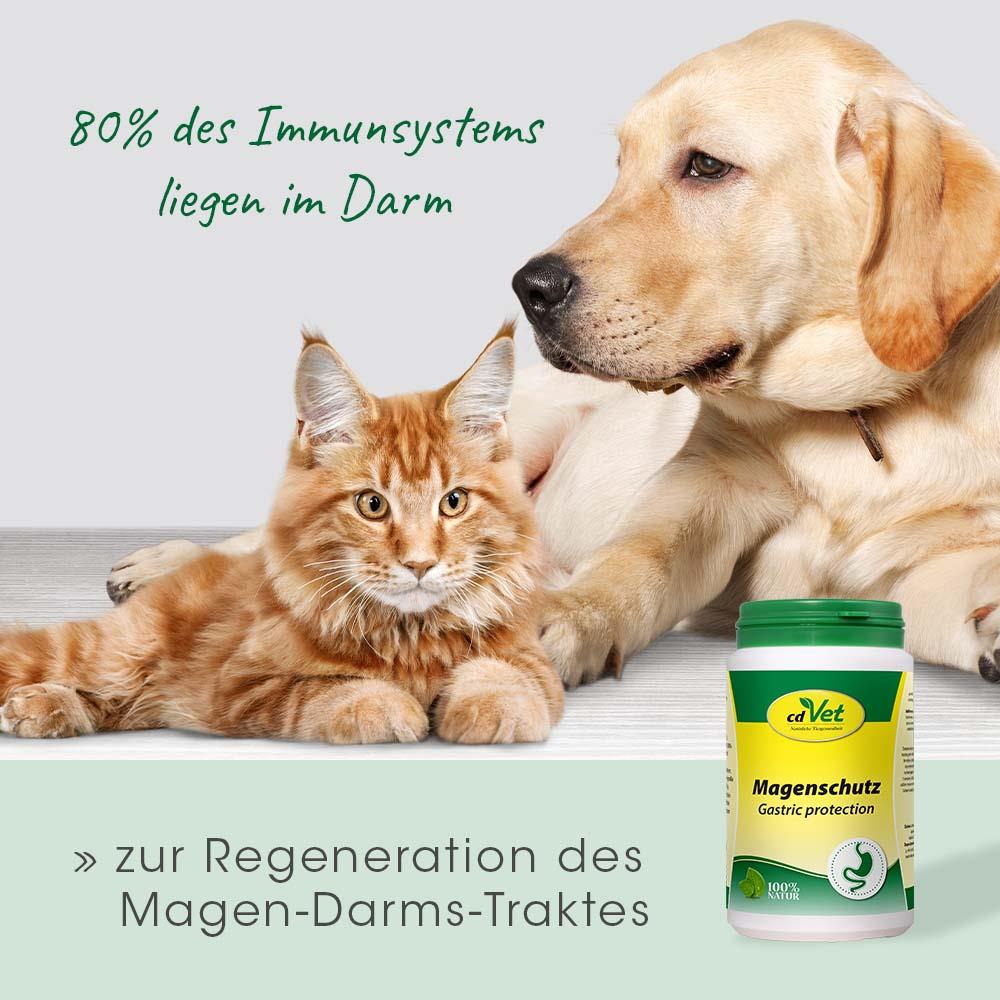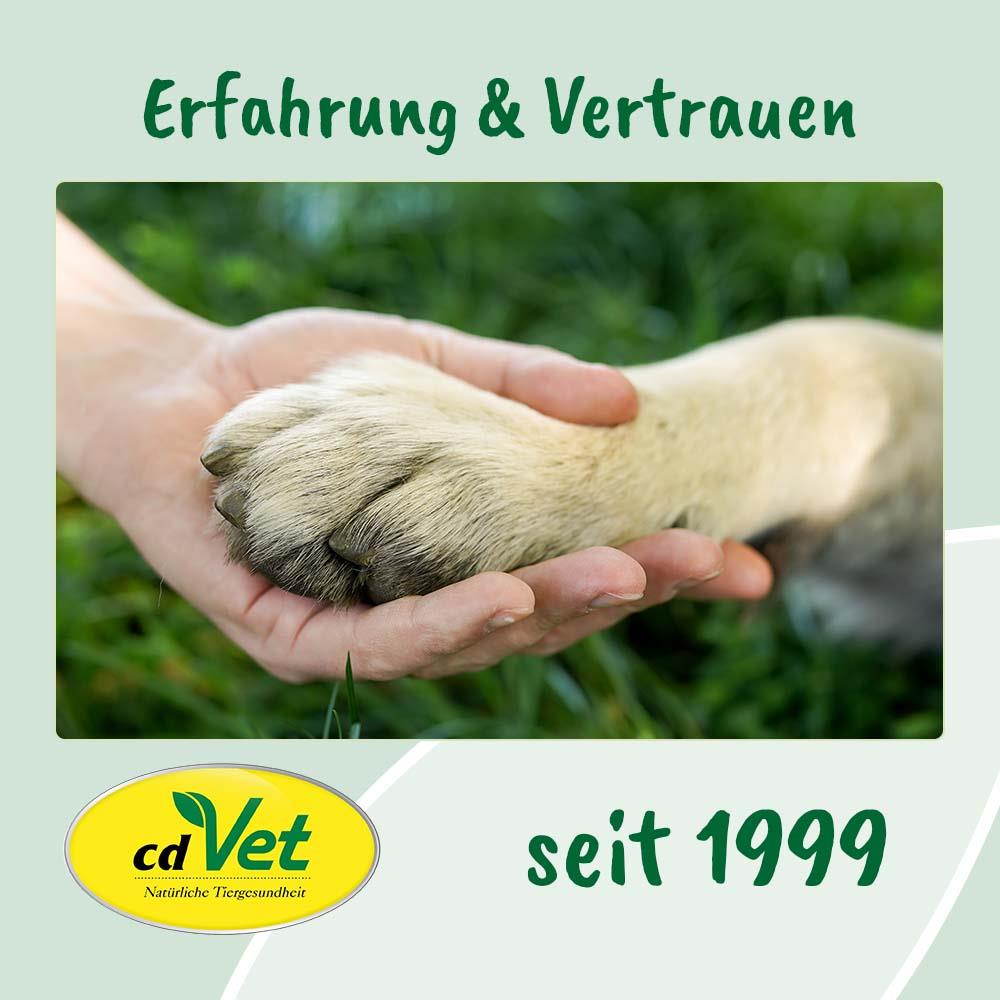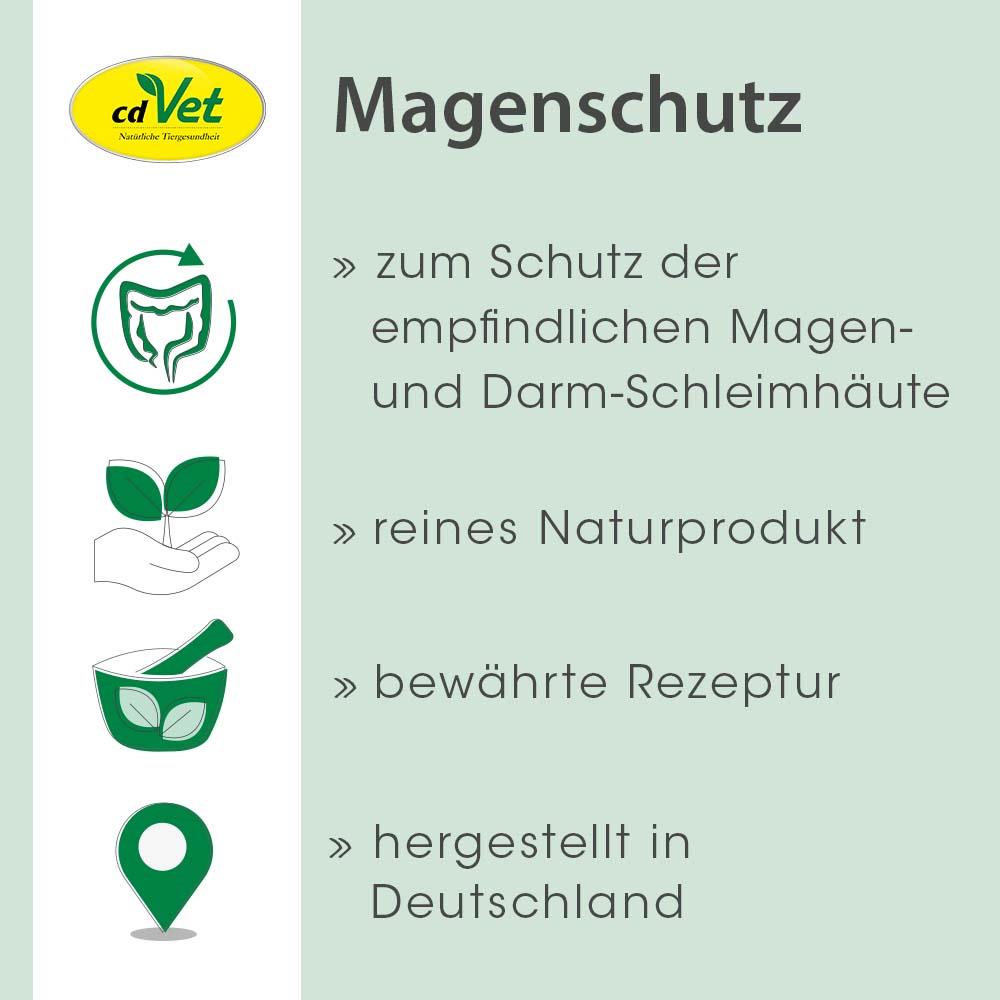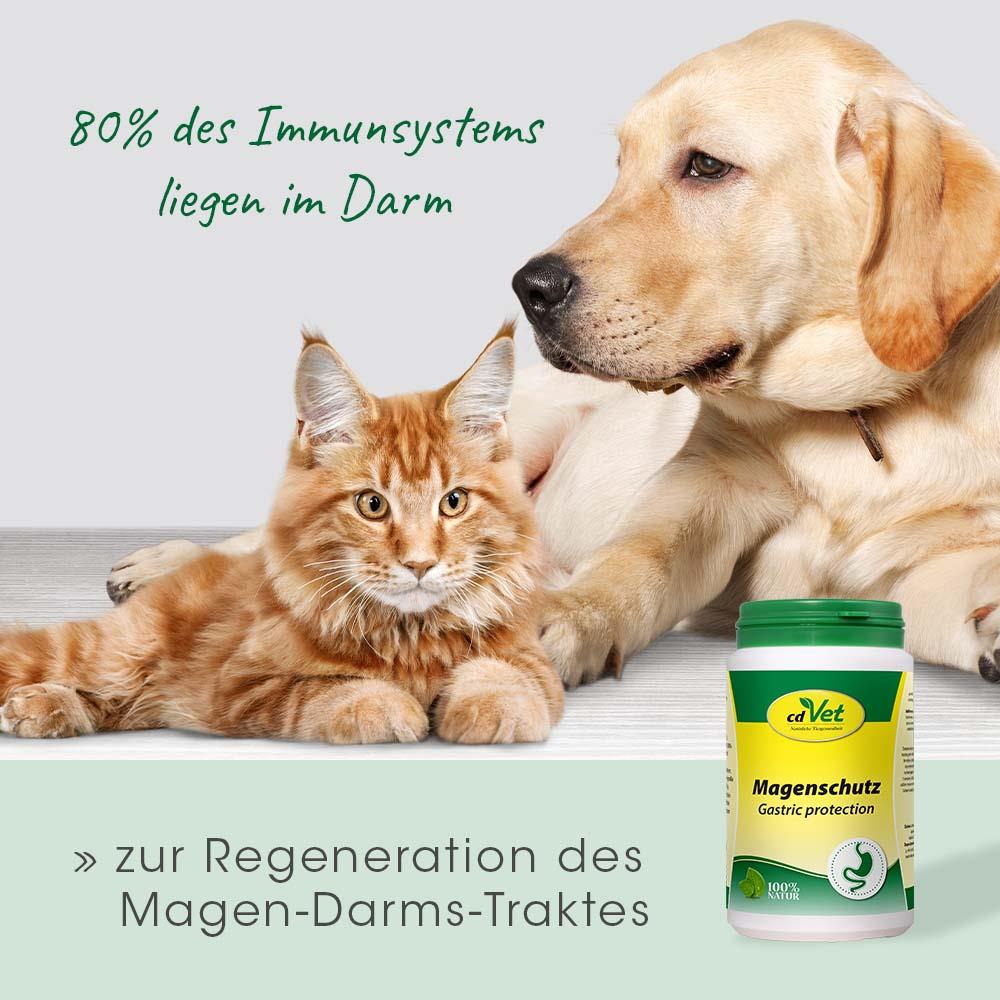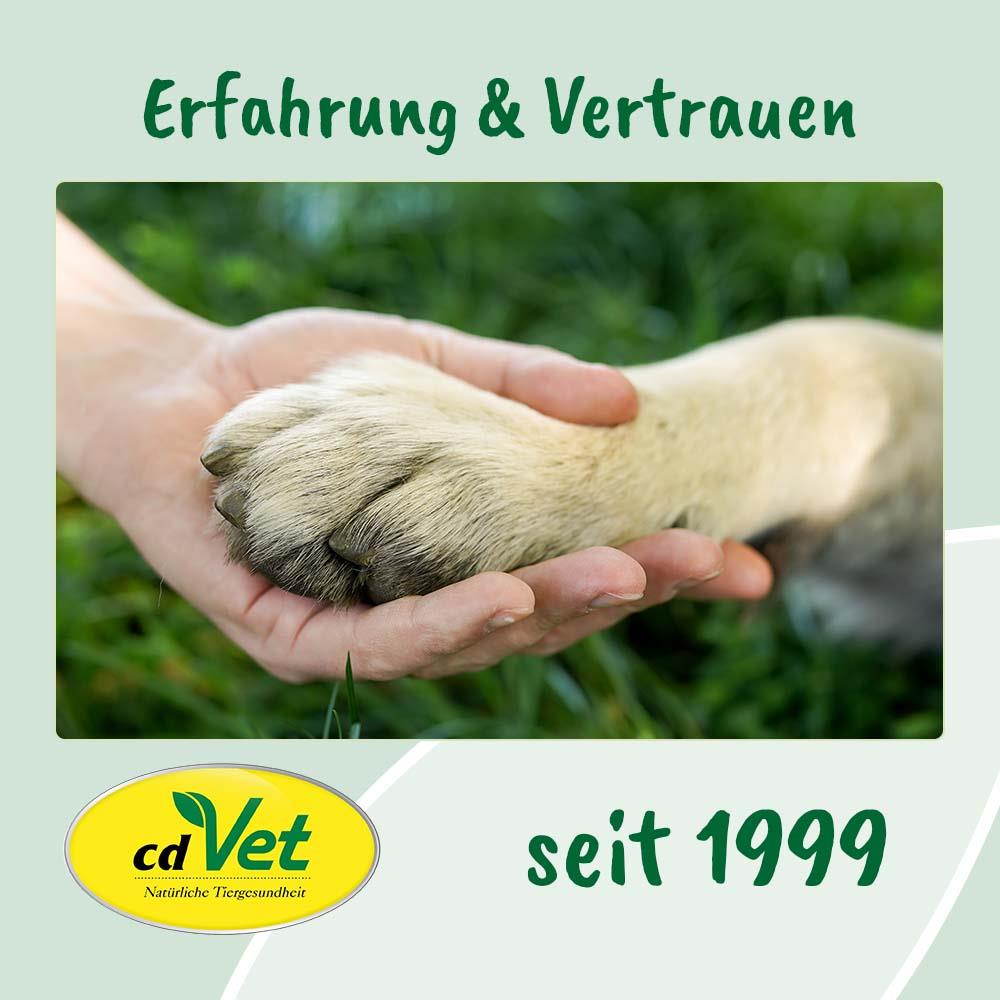 Fütterungsbedingte Unterstützung zur Regeneration des Magen-Darm-Traktes für Hunde und Katzen
€14.95*
Content:
0.1 Kilogramm
(

€149.50

* / 1 Kilogramm)
Available, delivery time: 1-3 days
Advantages

Ergänzungsfuttermittel für Hunde und Katzen - unterstützt die physiologische Regeneration der Magenschleimhaut

Ätherische Öle aus Salbei und Süßholzwurzel und Moor können sich positiv auf die Schleimhäute auswirken

Huminsäuren und Vulkanerden haben Schadstoff- und Giftbindende Eigenschaften und können Magensäure binden

100% Naturprodukt - ohne Füllstoffe, ohne Geschmacksverstärker und ohne synthetische Zusatzstoffe

Qualitätsprodukt nach bewährter cdVet- Rezeptur von Tierheilpraktikern, Tierärzten und Tierbesitzern entwickelt
Product information "Gastric Protection 100 g"
Complementary feed for dogs and cats
Support of the regeneration of the gastrointestinal tract due to feeding
Due to the high bonding capacity, the sensitive mucous membranes are positively influenced in their natural regeneration, and a better absorption of required substances is promoted. The protective ingredients coat the gastric and intestinal, mucous membranes and, thus, ensure a natural and gentle remediation.
Composition: peat, green oat, apple pectin, linseed, sage, licorice root, spirulina, grape pips meal
Additives per kg: technological additives: bentonite 1m558i 50 g
The total amount of bentonite must not exceed the permitted maximum level in complete feedingstuff of 20000 mg/kg of complete feedingstuff.
Analytical constituents and levels: crude ash 9.9%, crude protein 9.7%, crude fat 7.3%, crude fiber 13.3%, sodium 0.18 %
Feeding recommendation: give daily for at least 6 weeks, cats approx. 0.5 g (0.25 teaspoon), small dogs 2 g, midsize dogs 4 g, large dogs 8 g. 1 measuring spoon corresponds to approx. 8 g.
The simultaneous oral use with macrolides shall be avoided.
Feed Profile:

Aktiv & Sport

, Zuckerfrei

, Freizeit

, Zucht

, BARF

, Vegetarisch

, Ohne Zusätze

, Getreidefrei

, Laktosefrei

, Fütterung

Ingredients:

Apfel

, Grünhafer

, Lein

, Salbei

, Spirulina

, Süßholz

, Torf

, Traubenkernmehl

Phase of life:

Junior

, Adult

, Senior

Produkt form:

Pulver

Produk type:

Ergänzungsfuttermittel

Special Requirements:

Aufstoßen

, Blähungen

, Erbrechen

, Erde / Gras fressen

, Gesundheit

, Innere Organe

, Magen

, Schleimhautschutz

, Schmatzen

, Säurepuffer

, übersäuerung

Species:

Hunde

, Katzen

Time of application:

After Excitement and Stress

, delayed after feeding

, Directly after feeding
cdVet
Bei dem im Jahr 1999 gegründeten Unternehmen steht die Gesundheit und das Wohlbefinden von Tieren stets an erster Stelle. Durch natürliche Produkte soll der Einsatz von Medikamenten und Giften (z.B. bei der Parasitenabwehr) minimiert, im Idealfall sogar völlig überflüssig gemacht werden. Zu diesem Zweck bieten wir Naturprodukte an, welche durch eine optimale Versorgung, insbesondere mit Mikronährstoffen, die natürlichen Organfunktionen und Stoffwechselvorgänge unterstützen und die Gesundheit der Tiere erhalten. Durch die Verwendung hochwertiger Zutaten und die sanfte Verarbeitung der Produkte wird die Gesundheit mit der Kraft der Natur effektiv unterstützt. Der Organismus der Tiere, der insbesondere durch den steigenden Einsatz von chemischen Stoffen und Giften belastet ist, wird so geschont. cdVet- Produkte vereinen traditionelle, wissenschaftliche, naturheilkundliche und biologische Kenntnisse in einem Futter- und Pflegemittelkonzept. Als Pionier auf dem Gebiet der "natürlichen Tiergesundheit" ist cdVet konzeptionell breit aufgestellt und bietet ein Gesamtsortiment für alle Tierarten. Wichtiger Bestandteil des Firmenkonzepts ist dabei auch immer die individuelle Beratung und der umfassende Service für den Kunden.
Manufacturer website