The start of horse life
A horse mare is pregnant for between 315 and 340 days. After birth, the foal is already a few minutes later, able to get up. This is important so that the lungs can unfold and the foal can take the first breast milk for strengthening. cdVet offers other foal and breeding products to support natural foal health.
EquiGreen BroodmareMix 10 kg
Complementary feed for horsesFor additional feeding when fertility problems occur and for nutritional support for conditioning of the uterusEquiGreen BroodmareMix has been evolved to support diet-relatedly the mare's fertility. This special mixture can help the blood flow in the uterus, strengthen its musculature and thus facilitate the process of birth as well as the mare's regeneration. EquiGreen BroodmareMix compensates for diet-related imbalances that occur during the last weeks of pregnancy and during the first phase of lactation. It activates the metabolism. The included herbs are missing at nearly all pastures.Feeding of the mare before conception:The feeding of a barren mare should be adjusted on actually requirement on energy and micronutrients. If the mare was active in sport or if she has a foal at food resp. already several pregnancies , the feeding gives a greater significance. Through stress, breeding or sport risen lacke of nutrients should be balanced already before insemination to increase the probability of a good receive and a healthy foal development. Herbs and fertility: To support the fertility there are a number of herbs which can stimulate the female hormone balance. Phytohormone, herbal hormon-like substances can render a good service. Through ladys mantle the hormon level can be regulated and as well as the ovulation also the production of so called corpus luteum can be influenced positively to nidation. The high content of silicic acids of stinging nettle and Co. can strengthen diet-related the uterus tissue in its condition and can contribute supportive for birth and foaling. The chamomile can diet-related contribute to a physilogical remove of placenta (afterbirth). Furthermore the minerals, trace elements and vitamins which are containing in the herbs can compensate the poverty of herbs on the current meadows. Vitamins fertilityThe contained beta-carotene among other things in carrots, or vitamin A has long been known for its fertility-increasing importance. In the summer months the cover is at best over fresh grass, later over the hay feeding. However, high levels of beta-carotene are only found in fresh hay - during winter storage, the content decreases sharply. A deficiency can cause reduction of the size of the gonads and thus the loss of fertility. Further signs are too weak or too late heat with often missing follicle formation. During embryonic development, a deficiency can lead to malformation up to the death of the fruit. An additional supply with beta-carotene before conception and during pregnancy is therefore recommended.In case of bad/weak fertility cdVet recommends the feeding of EquiGreen BroodmareMix 3 to 4 weeks before insemination. Keep feeding EquiGreen BroodmareMix till the mare is pregnant for at least 3 weeks. An optimal supply with fertility-supporting vitamins and minerals can decrease the possibility of an early embryonic loss of the embryo.Composition: carrot, ladys mantle, yarrow, nettle, chamomile, birch leavesAnalytical constituents and levels: crude protein 11.7%, crude oils and fats 3.5%, crude fibre 11.6%, crude ash 7.3%, calcium 0.85%, phosphorus 0.34%, sodium 0.26%Feeding recommendation: to promote fertility: 3-4 weeks prior to and a further 3 weeks with an existing pregnancy, give daily 2-4 scoops over the feed. For pregnant mares: 3 weeks prior to the calculated due date and 3 weeks after giving birth, give daily 3-4 scoops over the feed.1 scoop corresponds to around 4.5 g.Close box firmly after use. Store in cool and dark place!
Content: 10 Kilogramm (€28.90* / 1 Kilogramm)
Subscription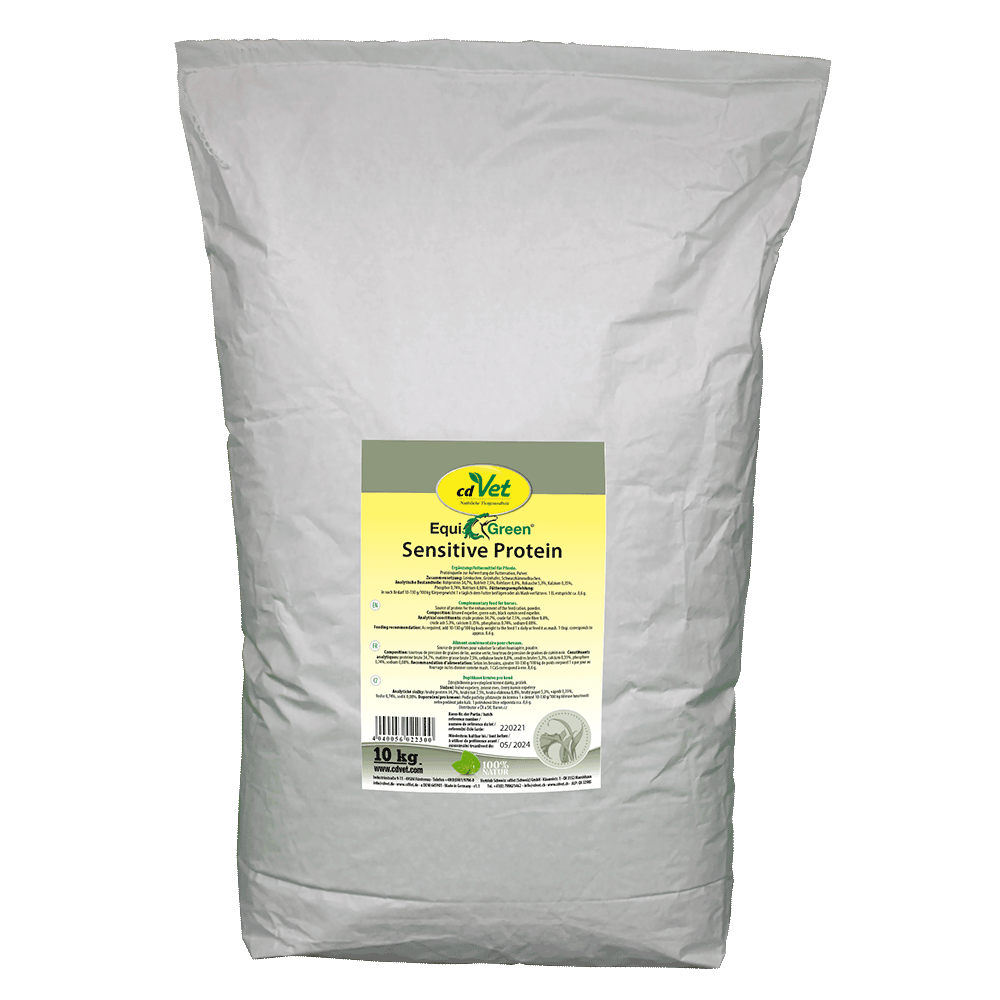 EquiGreen Sensitive Protein 10 kg
Complementary feed for horsesSource of protein for the enhancement of the feed ration, powderNot all hay is the sameIn some years, hay quality often presents horse owners with a major challenge, and they do not always have the opportunity to change anything themselves. Especially in 2022, the hay quality in the analyses shows low values in the area of digestible crude protein and, in comparison, very high sugar values.Proteins are the building materials of the body. They are needed for daily renewal processes, muscle development and maintenance, and cell regeneration. Thus, a low-protein hay is a special challenge for all horses in active training, in the use of mating, in growth, for horses with an increased protein requirement due to muscle diseases, and for seniors.The high sugar levels, in turn, pose an increased risk for all metabolically sensitive horses. EquiGreen Sensitive Protein can have a positive influence on the insulin sensitivity of the cells and the blood sugar level. Valuable protein sources in the form of gently processed oil press expeller supply your horses with essential amino acids and provide important energy for the supply of muscles and body. In winter, EquiGreen Sensitive Protein can help to maintain the muscles and provide sufficient building materials for the constant renewal processes.Composition: linseed expeller, green oats, black cumin seed expellerAnalytical constituents: crude protein 34.7%, crude fat 7.5%, crude fiber 8.8%, crude ash 5.3%, calcium 0.35%, phosphorus 0.74%, sodium 0.08%Feeding recommendation: As required, add 10-130 g/100 kg body weight to the feed 1 x daily or feed it as mash. 1 tbsp. corresponds to approx. 8.6 g.
Content: 10 Kilogramm (€5.00* / 1 Kilogramm)
Subscription
Singulares Colostrum pure 100 g
Feed material For the nutritional-related strengthening of the immune system and organism - immunoglobulins, vitamins, minerals, and amino acidsColostrum, also called foremilk or beestings mild, is one of the oldest and most extraordinary foods found in nature. Colostrum is unique - in addition to vitamins, minerals, trace elements, essential and non-essential amino acids, colostrum provides natural immune and growth factors in a unique variety and concentration not found in any other plant or chemical product!Singulares Colostrum pure is particularly gently dried. We have deliberately chosen bovine colostrum because cows have relatively high surplus quantities during the first milkings (in contrast to sheep and goats), so that sufficient colostrum is also available for the calf.Singulares Colostrum pure has proven itself:for the natural strengthening of the entire immune systemconcentrated nutrient cocktail to strengthen malnourished, weak animalsto strengthen mother animals, before and after birthas a complement to maternal milkto strengthen the vital functions of older and young animalsExpert Tip: For orphaned puppies and kittens we recommend cdVet Puppy Milk and feliTATZ Kitten Milk, respectively, as a replacement milk.What amount of colostrum should be fed?The condition of the newborn is decisive for the feeding quantity. If the young animal is not getting enough, it signals this by restlessness and/or audible crying. Then check whether the solution has not been diluted too much. If the young animal reacts with digestive disorders, the concentration will be reduced.Composition: 100% bovine colostrumAnalytical constituents and levels: crude protein 45%Feeding recommendation for adult/young animals: Dog/cat: 1 g/10 kg body weight per day. Horse/pony/donkey: 5 g/100 kg body weight per day. Pigeon: 2 g/kg feed or 2 g/L drinking water. 1 heaped tsp. corresponds to approx. 4 g.Feeding recommendation in case of loss of the dam: Mix colostrum with 50°C warm water without lumps, or shake well in a bottle, feed at body temperature (37°C). Puppy/kitten: mix 10 g with 30 ml water. Lamb/cria/piglet: mix 75 g with 225 ml water, feed the finished mixture within 5 hours. Foal: mix 300 g with 900 ml water. The amount of liquid should be 3-5 L in the first 24 hours. 1 heaped tbsp. corresponds to approx. 16 g.The specified feeding quantities are only guidelines. However, those must be adapted to the individual needs and condition of your young animal. The feeding quantity can be increased for strong young animals. Colostrum should be given as soon as possible after birth (ideally in the first 2 hours), then every 1-2 hours and supplemented with a good replacement milk within 24 hours!
Content: 0.1 Kilogramm (€379.50* / 1 Kilogramm)
Subscription