For the top performance of your pigeons
An active metabolism ensures top performance, this is especially important in pigeon racing. To support the naturally healthy condition of the pigeons, you will find the products of cdVet here. They provide the pigeons with important substances, which thus support the health of the pigeons.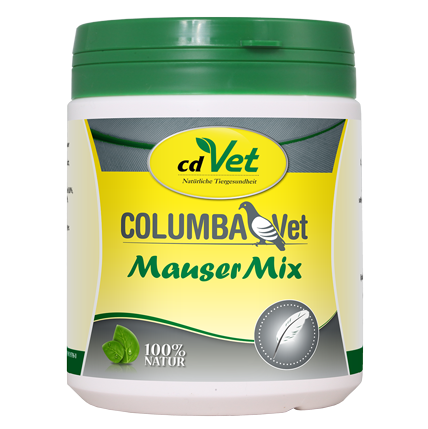 COLUMBAVet MoltMix 240 g
Complementary feed for pigeonsFor feeding according to needs before and during the moulting periodCOLUMBAVet MoltMix consists, among other things, of high-quality ingredients that contain many of the sulfur-containing amino acids that are urgently needed for the metabolic processes during molting. The contained herbs have an additional detoxifying effect and support the regeneration of the liver. COLUMBAVet MoltMix supports in a natural way a fast moulting process and an optimal structure of the new plumage.Expert tip: COLUMBAVet MoltMix is also suitable for liver support after an administration of medication. Due to the detoxifying effect, it is advantageous to feed a mineral source, such as COLUMBAVet HuminoMineral or COLUMBAVet VulcanoMineral at the same time.Composition: linseed, brewers' grains, brewers' yeast, stinging nettle herb, birch leaf, milk thistle herb, dandelonAnalytical constituents and levels: crude protein 23.7%, crude fat 16.4%, crude fiber 11.1%, crude ash 8.8%, sodium 0.10%, calcium 0.86%, phosphorus 0.52%, lysine 1,05%, methionine 0.37%Feeding recommendation: 7 g to 1 kg of feed. Tea preparation: 3-7 g to 2 L of hot water. 1 measuring spoon corresponds to approx. 7 g.
Content: 0.24 Kilogramm (€83.13* / 1 Kilogramm)
Subscription
COLUMBAVet Vital 1 L
Complementary feed (liquide) for pigeonsFeeding-related, long-term support of liver and kidney functionCOLUMBAVet Vital is a unique combination of herbs, fruit, and vegetable. Due to the optimal combination of the ingredients, COLUMBAVet Vital contains many vitamins, minerals, and secondary plant substances, which both support the condition of the digestive organs and are also particularly important for supplying the detoxification organs. Optimal condition of detoxification and digestive organs is the most important prerequisite for all metabolic processes and the condition of skin and feathers.In addition, COLUMBAVet Vital contains a large number of natural plant substances that support the immune system and can ensure shiny and healthy plumage. Therefore, it is recommendable to feed COLUMBAVet Vital over a longer period of time before breeding, traveling and moulting, because only an optimally cared for and healthy animal achieves top performance.COLUMBAVet Vitalsupports liver and the immune systemincreases the condition of your carrier pigeon and breeding dovepromotes a rapid regeneration after the flightpromotes a shiny and healthy plumage and supports pigmentationComposition: fruit vinegar, elderberry juice, beetroot juice, dextrose, ferment cereal liquid, acerola cherry pulp, gingko leaves, stinging nettle herb, artichoke leaves, ribwort plantain leaves, anise seeds, thyme, purple coneflower herb, St. John's wortAdditives/kg: Preservatives: lactic acid* (1a270) 2 g. Flavouring compounds: ethanol 7.94 g.*The simultaneous use of different or ganic acids or their salts is contraindi cated where one or more of them is used at or near the maximum permitted content.Analytical constituents: crude protein 1.0%, crude fiber 1.75%, crude fat 0.8%, crude ash 1.5%, moisture 93%, sodium 0.2%, lysine 0.1%, methionine 0.1%Feeding recommendation: Before travelling and breeding, add 2-3 ml/kg complete feed or 2 ml/L drinking water daily for at least 6 weeks. During travel and breeding, add at least 2-3 x a week 2-3 ml/kg complete feed or 2 ml/L drinking water.
Subscription