Already thinking about the metabolism of your horse?
A functioning metabolism is important so that the feed conversion of the horse runs ideally. But a good metabolism of the horse, also makes the coat shine and grow, stomach and intestines can do their job well and correctly and the organs harmonize with each other. Support this function with cdVet's natural feed supplements.
EquiGreen HorseVital 1 L
Complementary feed (liquid) for horsesFeeding-related, long-term support of liver and kidney functionIn order to fulfill the basic requirements for performance, intact skin and a shiny coat, a healthy digestion and a functioning metabolism as well as an optimal supply of micronutrients are crucial. EquiGreen HorseVital is enriched with a mixture of natural herbs, fruit, and vegetables, which are of particular importance for the nutrition-related support of the detoxification organs and the digestive tract.Composition: fruit vinegar, elderberry juice, beetroot juice, dextrose, ferment cereal liquid, acerola cherry pulp, gingko leaves, stinging nettle herb, artichoke leaves, ribwort plantain leaves, anise seeds, thyme, purple coneflower herb, St. John's wortAdditives/kg: Preservatives: lactic acid* (1a270) 2 g. Flavouring compounds: ethanol 7.94 g.*The simultaneous use of different or ganic acids or their salts is contraindi cated where one or more of them is used at or near the maximum permitted content.Analytical constituents: crude protein 1.0%, crude fiber 1.75%, crude fat 0.8%, crude ash 1.5%, moisture 93%, sodium 0.2%Feeding recommendation: Add 10 ml/200 kg body weight 1 x daily to the feed for at least 2 weeks.Store it cool and dark!
Subscription
EquiGreen Toxisan 1 L
Complementary feed for horsesFeeding-related support of the whole metabolism, of liver and kidneys, liquidEquiGreen Toxisan is specifically designed to meet nutritional-related needs of horses and ponies. A strengthening of the detoxification organs, liver and kidneys, is helpful to support the whole metabolism. The blend of herbal extracts of EquiGreen Toxisan, adapted to the stimulation of the detoxification organs, can be quickly absorbed and directly utilized by the body, thus supporting the detoxification processes.Expert tip: As a supplementary, year-round supply of mineral and humic substances, EquiGreen HuminoMineral is recommended. During the grazing season, EquiGreen ToxiVet sorb should be fed additionally.Composition: stinging nettle extract, birch extract, wild pansy extract, marigold extract, mountain arnica extractAdditives per L: Preservatives: lactic acid E270 47.5 g. Sensory additives: ginkgo tincture 70.9 g, milk thistle tincture 23.6 g, goldenrod tincture 23.6 g.Analytical constituents and levels: crude protein 0.3%, crude fiber 0.5%, crude ash 0.4%, crude fat 0.2%, moisture 93%, sodium 0.02%Feeding recommendation: Shake before use. If required, mix 1-2 ml/100 kg body weight 2 x daily with the feed or give it directly into the mouth. For year-round demand 1 x daily 0.5-1 ml/100 kg body weight.
Subscription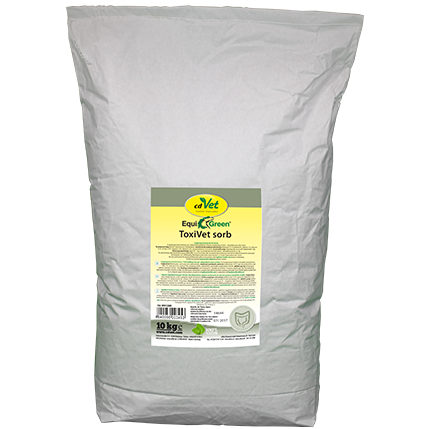 EquiGreen ToxiVet sorb 10 kg
Complementary feed (powder) for horsesFor demand-oriented feeding of metabolically sensitive horses with toxin-binding and prebiotic propertiesIn the feeding of our horses, there are ever greater barriers to overcome in order to ensure a feeding that is as close to nature as possible. Toxin contamination in the basic feed, as well as the over-supply of protein, are often the causes of metabolic overloads.EquiGreen ToxiVet sorb contains highly efficient ingredients that can contribute to adsorbing toxins and at the same time to reliefe the liver. The intestine is being supported to adsorb toxins and subsequently to excrete them. This way, it is made difficult for harmful substances to penetrate into the organism.EquiGreen ToxiVet sorb is rich in natural B vitamins, trace elements, and essential amino acids. Due to mannan-oligosaccharides (MOS), the mucous protective barrier of the intestine and its non-specific immune system is positively influenced.For the micronutrient supply we recommend additionaly EquiGreen HuminoMineral.Expert tip: If EquiGreen GutActive is fed at the same time, the individual products should be fed with a time delay (e.g. morning/evening).Composition: brewers' yeast cell walls (MOS), wheatgrass root, rockroseAdditives/kg: Technological additives: bentonite (1m558i) 370 gThe total amount of bentonite must not exceed the permitted maximum level in complete feedingstuff of 20000 mg/kg of complete feedingstuff.Analytical constituents: crude protein 13.7%, crude fat 4.4%, crude fiber 7.1%, crude ash 34.5%, ash insoluble in HCl 30.0%, calcium 0.79%, phosphorus 0.28%, sodium 0.15%Feeding recommendation: Add 10-25 g/animal daily to the feed as required. 1 tbsp. corresponds to approx. 10 g.The simultaneous oral use with macrolides shall be avoided.
Content: 10 Kilogramm (€19.20* / 1 Kilogramm)
Subscription