Vet4Institute
The topic of "avoinding antibiotics naturally" is increasingly percieved as an important challange and a prority in animal husbandry. Herbs, probiotic Micro-organisms und essential oils are often underrated as agents which can reduce the need for antibiotic use.
That is why we have created
vet4institute.de
.
Here we will look to illustrate and demonstrate the positive effects of our health concept for you. All of the results and findings of our testing will be published on this platform . For example: Studies on the effects of our MicroAgrar MK on the lactation in cows, or how economically profitable feed conversion can be when using TurboBronchial in fattening. Here you will not only be able to find out about all completed tests and results. but also find information about testing currently in progress. Looking for Studies on horses, dogs and cats ? no problem either.
Feel free to visit and inform yourself about our studies . If you are interested in a Study / Partner program , please do contact us. Please also visit our website
Antibiotika-natürlich-vermeiden
. .
and remember to say with pride : "Avoid antibiotics naturally - Im 'in!"
Vet4Institute
Hier möchten wir die Auswirkungen unseres Gesundheitskonzeptes für Sie veranschaulichen. Sämtliche Erkenntnisse, die wir durch unsere Testbetriebe erlangen, werden auf dieser Plattform veröffentlicht. Bspw.: Studien über die Auswirkungen unseres MicroAgrar MK auf die Laktation bei Kühen oder wie wirtschaftlich rentabel die Futterverwertung beim Einsatz von TurboBronchial in der Mast sein kann. Hier können Sie sich nicht nur über alle abgeschlossenen Ergebnisse informieren, sondern ebenfalls über die laufenden.
Sie suchen Studien über Pferd, Hund oder Katze? Ebenfalls kein Problem. Schauen Sie gerne vorbei und informieren Sie sich über unsere Studien. Wenn Sie an einer Studie / Partnerprogramm Interesse haben, melden Sie sich bei uns.
Intestinal Health
The folk wisdom "Health begins in the intestine" applies not only to us humans but to animals too. An intact intestinal flora makes it considerably mor difficult for pathogenic micro-organisms to settle in the intestines. This in turn also reduces the germ volume in the stables, as there are fewer pathogenic germs excreted. Therefore, a healthy intestinal environment is of particular importance for maintaining the health of livestock. pathogenic germs are a particular problem in young animals, whose immune system is not yet fully developed and which are exposed to increased streess due to exposure to new micro-organisms and new stabling. The reduction in germ volume and the development of a healthy intestinal environment should therefore be of the highest priority. The frequent use of antibiotics can have a severely detrimental effect on the intestinal environement or hinder the renewal of a healthy intestinal flora. This can in turn cause other health issues and add to waiting times and costs. Intestinal health is a very influential factor in the profitabilty of livestock ( poultry in particular) and should be a high priority to help ensure economic success.

Udder Health as a success factor,
A healthy udder is a of fundemental importance, not only to the profitability of dairy farming, but also to the general health and well being of the individual cow. Udder problems can cause significant detriment to the welfare and productivty of livestock and be cause of painfull economic losses for dairy farmers.
Care and Hygiene
One of the fundemantal measures to prevent mastitis is proper udder care and hygiene. The volume of germs on the teat surface ance be effectively reduced by using suitable hygiene measures. According to the DLG Test Center, depending on the Mastitis pathogen, up to 90 percent of new infections can be prevented. Posture management is also a key factor in the prevention of mastitis. Hygenic milking processes, the improve,ent of teat condition, cleanliness of the barn, milking house, milking cluster as well as complete control of the livestock data all contribute to a healthy udder and an economically successfull dairy farm.
Respiratory Health
The area of respiratory health is where a lot of businesses invest their energy . Through optimal airway condition and therefore optimal oxygen exchange, feed conversion and intake is positively influenced. through an optimal airway condition the susceptability to r
espiratory afflictions is reduced. In Nature , an animal would absorb essential oitls via fresh plants, but this is not guaranteed with stabled livestock. Active ingredients contained in essential oitls are particularly important for the condition of the respiratory tract and also for digestion. In der Natur würde das Tier ätherische Öle über die Frischpflanzen mit aufnehmen. Dieses ist in der Stallhaltung kaum gewährleistet. The management and cleaning of the respiratory tract is particulary important in stables and barns due to the high germ and dust loads present in the environment.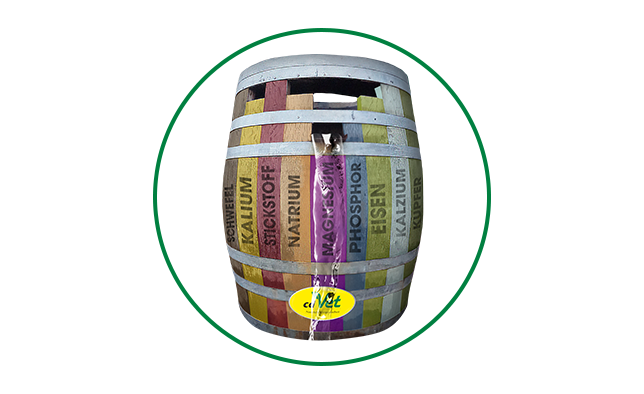 Minerals
The law of the minimum "Every organism can use its genetic potential only to the extent that the smallest available resource at its disposal allows ". This statement comes from Justus von Liebig ( 1803-1873) in his Law of the Minimum. It is still valid today, However with the development of industrial animal husbandry in the last century has led to the use of many synthetic components being used in feeding. although this is relatively inexpensive it is negated by the reduced usability by livestock. every substance offered to the animal (basic feed , concentrated feed, mineral feeds, Medicine, care products, etc. ) must be absorbed, converted, transported and broken down again. however the body can only recylcle substances of organic origin. Substances of inorganic or synthetic origin can be ingested and transported by the animal but can only be used in a limited extent and usually build up in the liver or skin as they take longer to degrade and expel.