It's all about the inner values
The internal organs of birds differ from those of other vertebrates and therefore have different needs to mammals. The lungs, for example, have extra air sacs and the heart beats faster to support the body for flight. For the right support from the outside, cdVet has perfectly adapted the products for the internal organs in birds to the needs.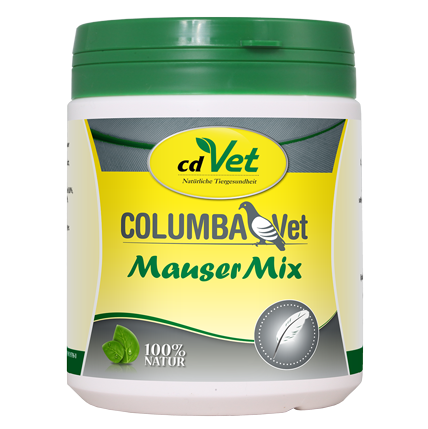 COLUMBAVet MoltMix 240 g
Complementary feed for pigeonsFor feeding according to needs before and during the moulting periodCOLUMBAVet MoltMix consists, among other things, of high-quality ingredients that contain many of the sulfur-containing amino acids that are urgently needed for the metabolic processes during molting. The contained herbs have an additional detoxifying effect and support the regeneration of the liver. COLUMBAVet MoltMix supports in a natural way a fast moulting process and an optimal structure of the new plumage.Expert tip: COLUMBAVet MoltMix is also suitable for liver support after an administration of medication. Due to the detoxifying effect, it is advantageous to feed a mineral source, such as COLUMBAVet HuminoMineral or COLUMBAVet VulcanoMineral at the same time.Composition: linseed, brewers' grains, brewers' yeast, stinging nettle herb, birch leaf, milk thistle herb, dandelonAnalytical constituents and levels: crude protein 23.7%, crude fat 16.4%, crude fiber 11.1%, crude ash 8.8%, sodium 0.10%, calcium 0.86%, phosphorus 0.52%, lysine 1,05%, methionine 0.37%Feeding recommendation: 7 g to 1 kg of feed. Tea preparation: 3-7 g to 2 L of hot water. 1 measuring spoon corresponds to approx. 7 g.
Content: 0.24 Kilogramm (€83.13* / 1 Kilogramm)
Subscription
COLUMBAVet VulcanoMineral 1 kg
Mineral complementary feed for pigeonsDaily supply of minerals, trace elements, and electrolytes, powderCOLUMBAVet VulcanoMineral is particularly suitable to supply carrier pigeons with the necessary minerals and trace elements during the journey.Since all ingredients come from purely natural sources, they are metabolized very well and do not put additional strain on the liver of the pigeon. Volcanic earth (bentonite) can already intercept toxins in the digestive tract before they burden the organism, thus intestine and liver are being protected.The pigeon goes optimally prepared for the journey. After the trip, the electrolytes contained support a rapid regeneration.binding of toxinsfor more vitality and performance strengthcontains electrolytes for faster regeneration after the flightdoes not contain synthetic vitaminsExpert tip: A disturbed intestinal flora is often another cause of deficiency symptoms. Therefore, a 14-day intensive feeding with COLUMBAVet GutClean for pigeons is recommended.Composition: maerl, seaweed meal, grape pips meal, malt rootles, brewers' yeast, brewers' yeast cell walls (MOS)Additives per kg: Technological additives: bentonite 1m558i 630 gThe total amount of bentonite must not exceed the permitted maximum level in complete feedingstuff of 20000 mg/kg of complete feedingstuffAnalytical constituents: crude protein 3.2%, crude fiber 2.5%, crude ash 75.9%, crude fat 0.4%, ash insoluble in HCl 50.9%, calcium 6.9%, phosphorus 0.1%, magnesium 1.1%, potassium 0.7%, sodium 0.97%, lysine 0.15%, methionine 0.06%Feeding recommendation: 5-15 g/kg feed, moisten with COLUMBAVet Feeding Oil or water. Start 14 days before the trip, during travel time continuously. 1 tsp. corresponds to ca. 4.75 g.The simultaneous oral use with macrolides shall be avoided. The simultaneous use with robenidine shall be avoided. The simultaneous use with coccidiostats other than robenidine is contraindicated with level of bentonite above 5000 mg/kg of complete feed.
Subscription