An easy change to a new barn
The pig's stabling phase is often associated with a lot of stress. New environment, new animals and, possibly, a long transport route too. To support your pig's stabling, cdVet offers a wide range of natural products.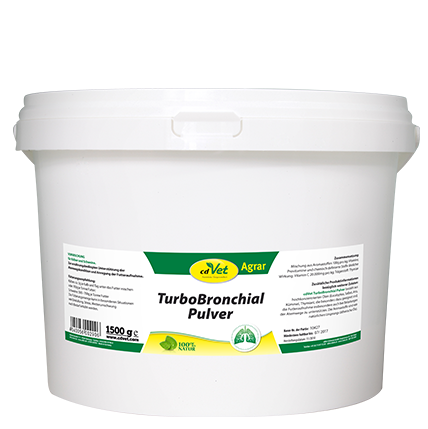 TurboBronchial Powder 1.5 kg
PREMIXTURE for ruminants, calves, and pigsFor nutrition-related support of the respiratory tract condition and stimulation of feed intake, powderThe respiratory tract is where most farms have the greatest performance reserves. Optimal respiratory condition and thus optimized respiration have a positive influence on feed conversion and intake. With optimal respiratory condition, the susceptibility to respiratory infections is low.In nature, the animal would absorb essential oils via the fresh plants. This is hardly guaranteed in the stable keeping of ruminants, calves and pigs. The active substances contained in the essential oils are important for the condition of the respiratory tract and also for digestion. In particular, the cleaning of the respiratory tract is especially important in relation to the high germ and dust load in the stables. TurboBronchial Powder is a matter of course in performance assurance for many farms. It can be used throughout the entire fattening period.Tailored to the different needs of the feeding method, you will find TurboBronchial Powder in different variants:TurboBronchial (liquid - concentrate)TurboBronchial PowderTurboBronchial Drinking WaterTurboBronchial LiquidFlavouring compounds: mixture of flavouring compounds 100 g/kg. Vitamins, pro-vitamins and chemically well-defined substances having similar effect: vitamin C 20 g/kg. Carriers: thyme.Directions for use: Calves: ca. 5 g/animal mixed into the feed daily or 500-700 g/t feed. Rumiants/pigs: 500-700 g/t feed. The feeding quantity may be increased as required in special situations, such as stabling, stress, and weather changes.
Content: 1.5 Kilogramm (€27.82* / 1 Kilogramm)
Subscription