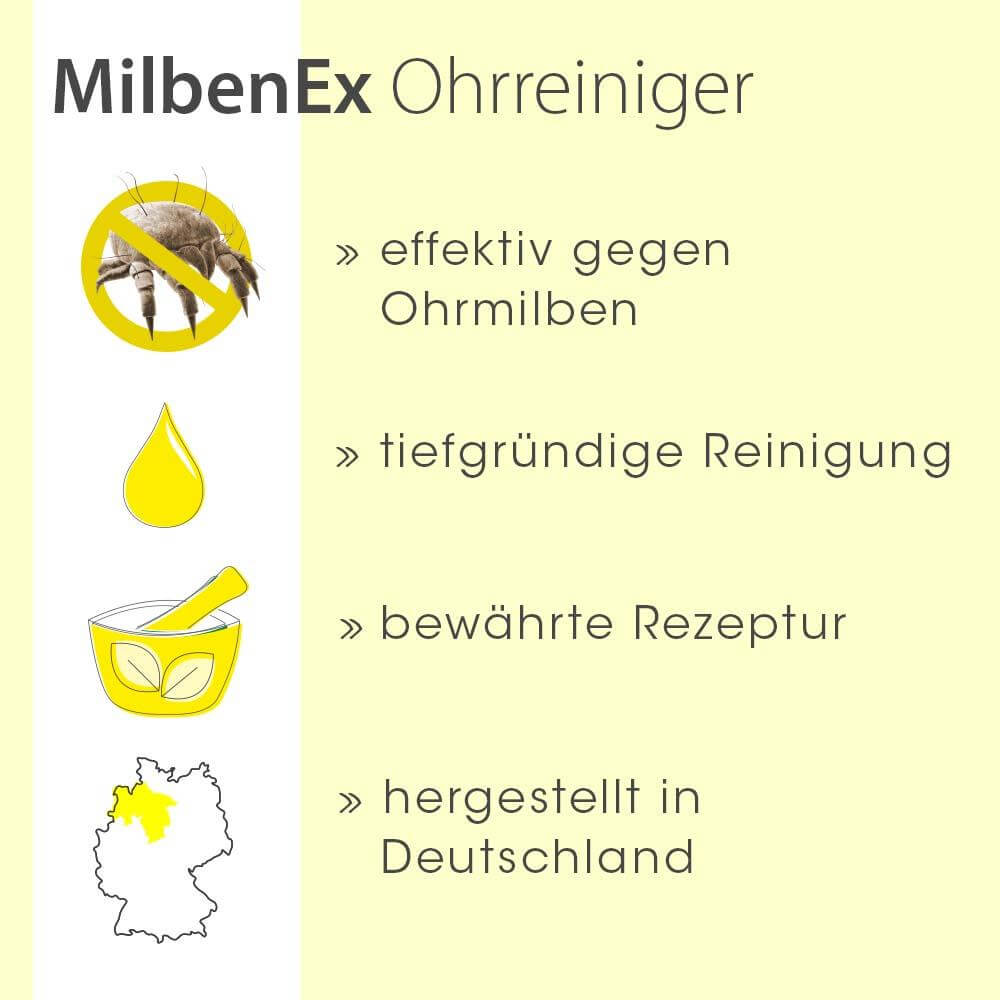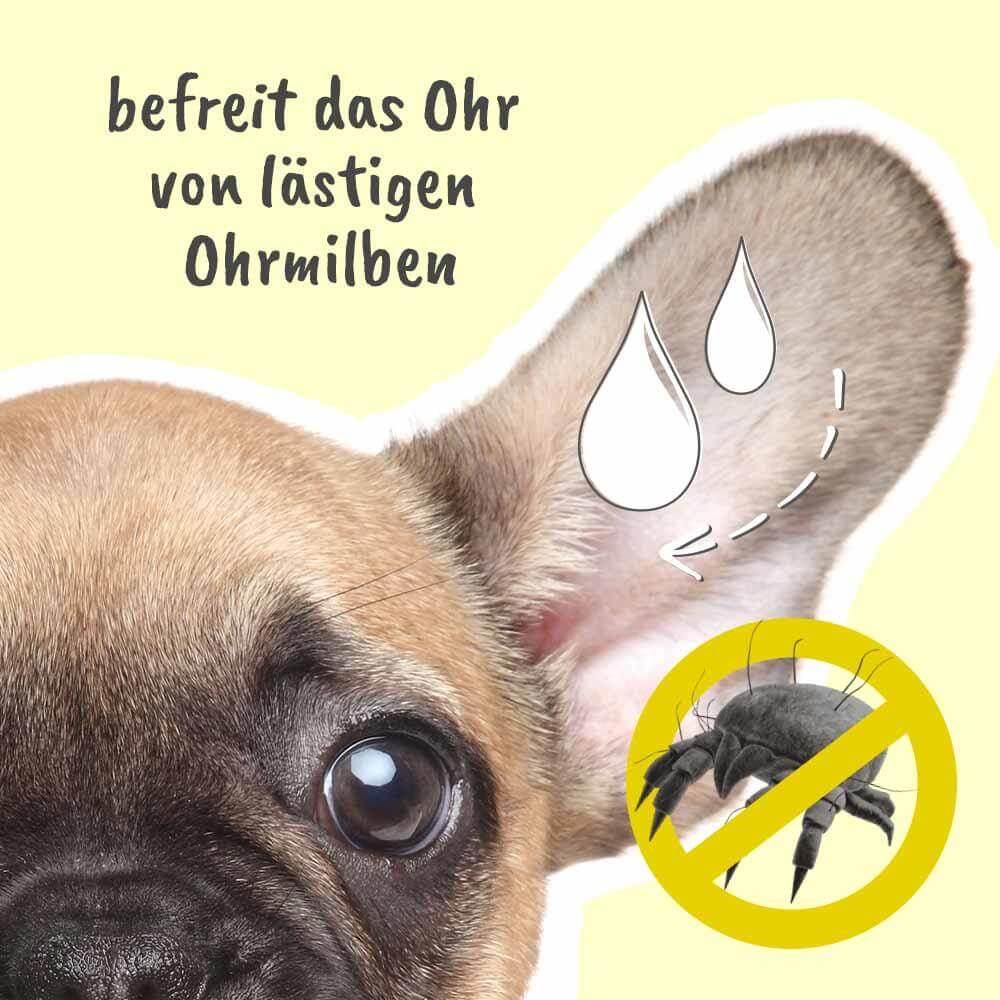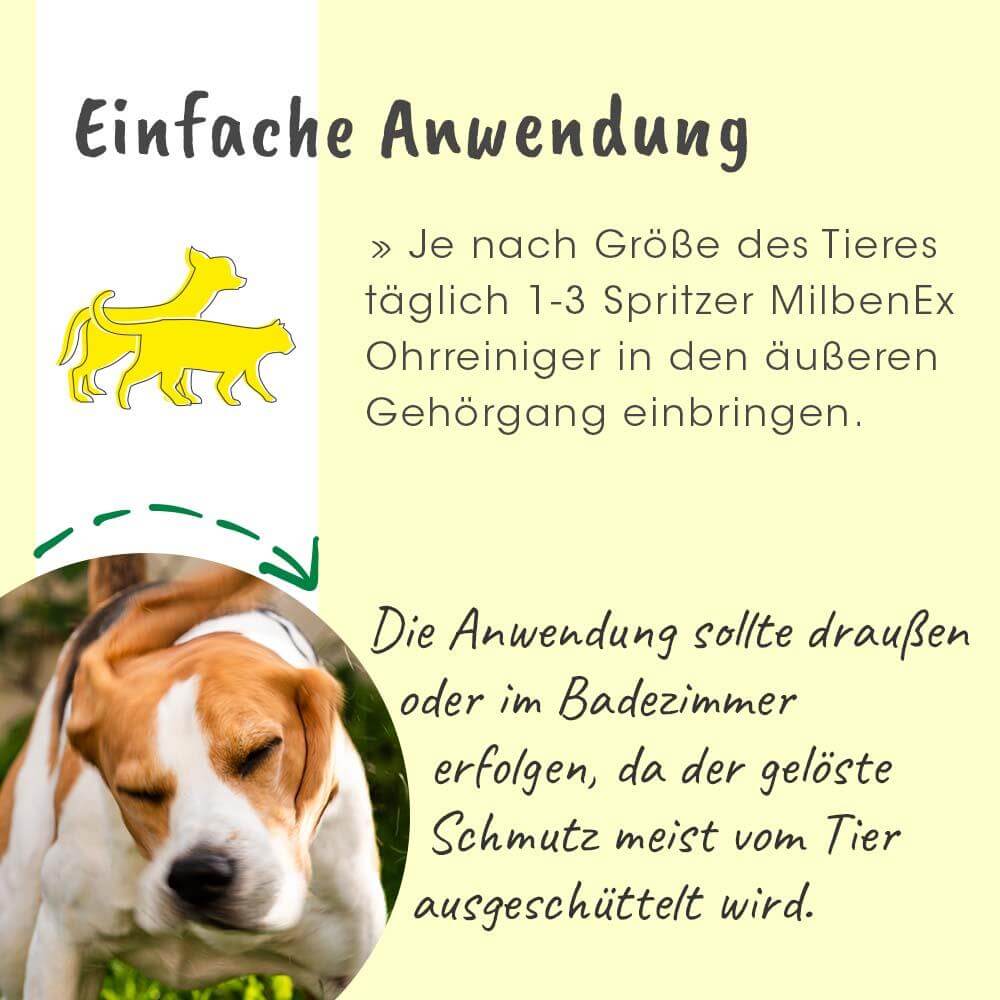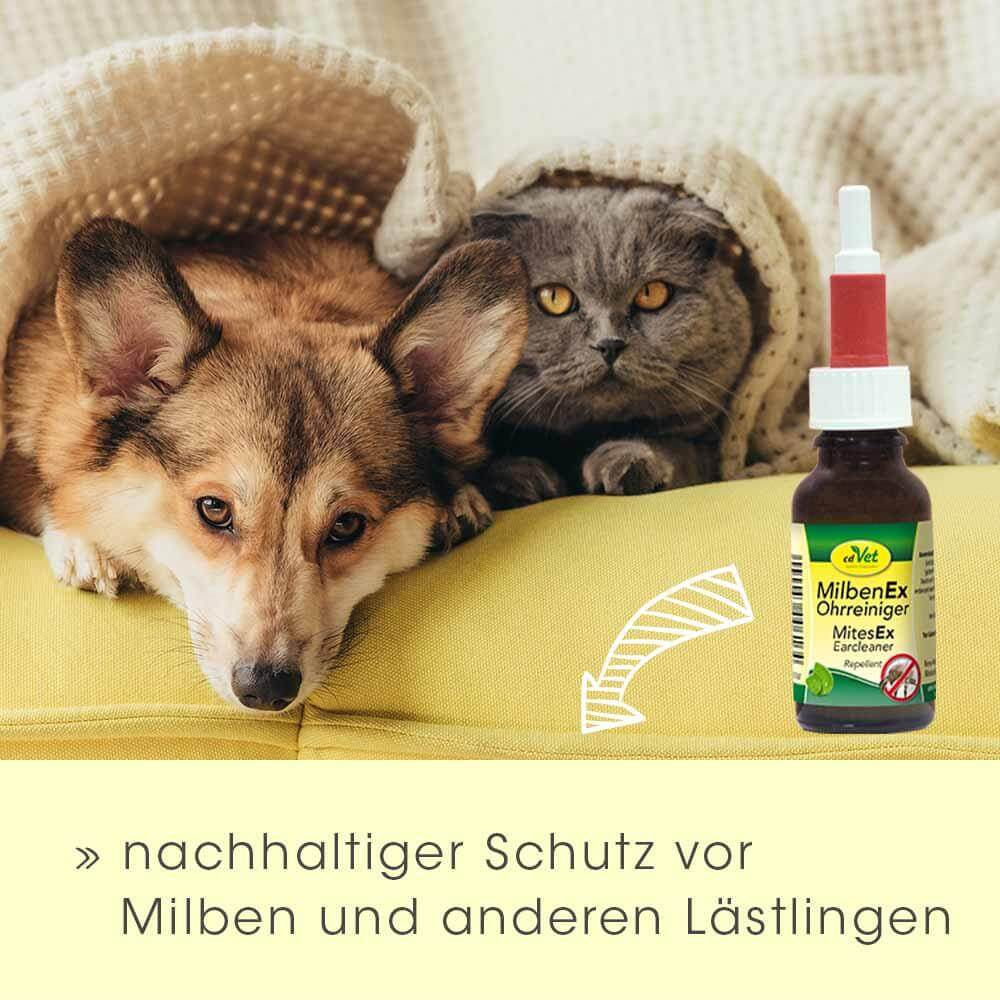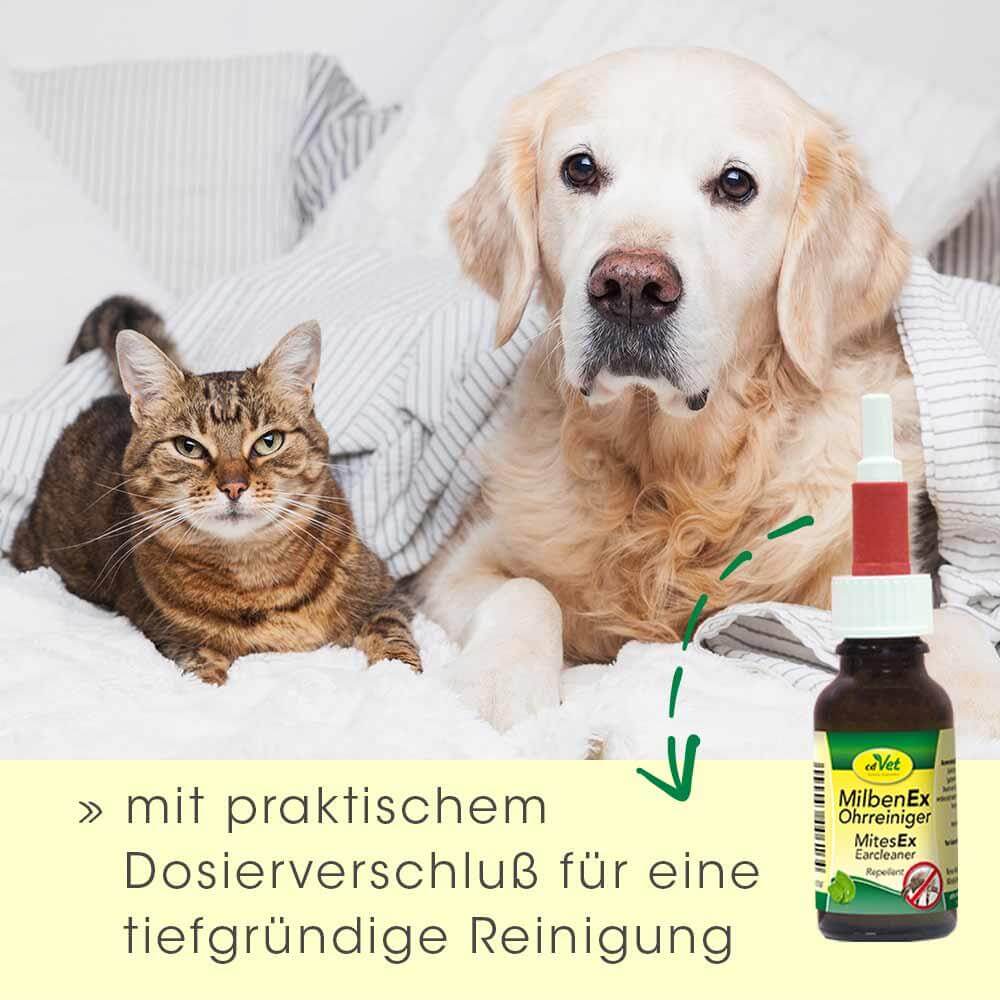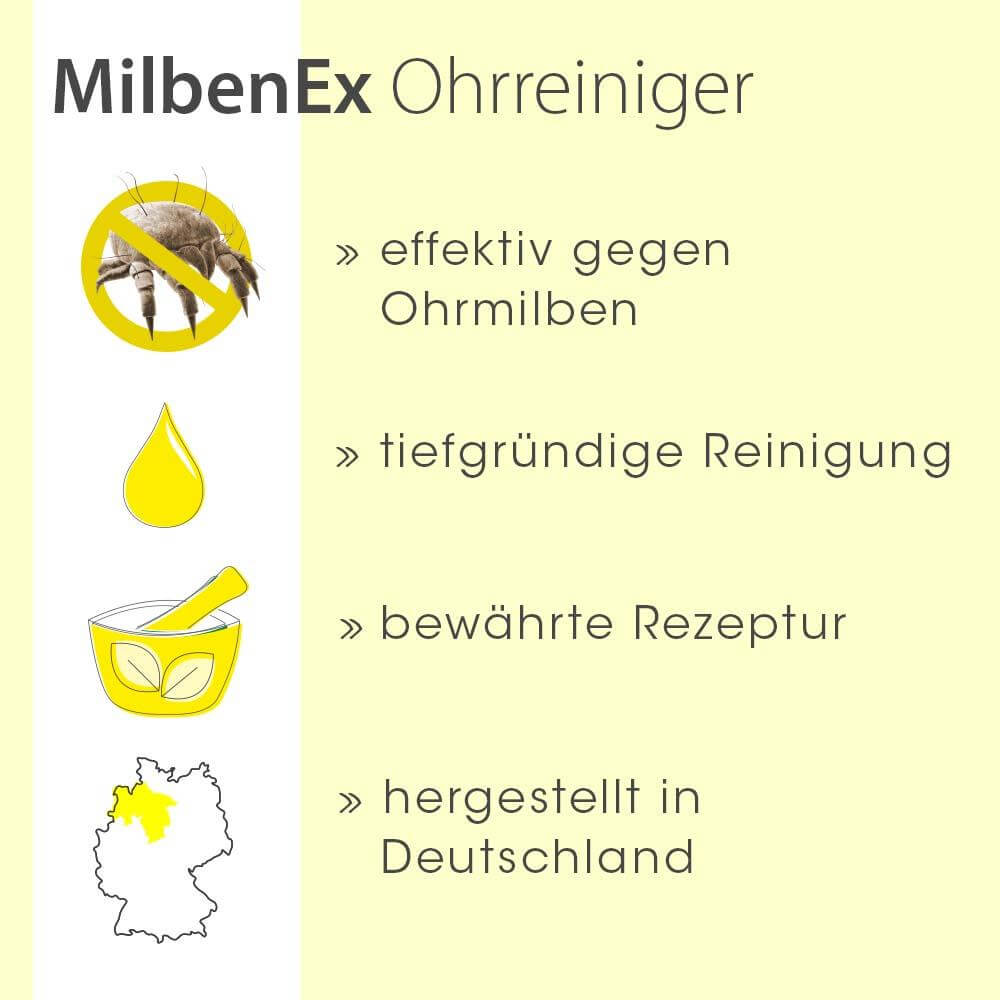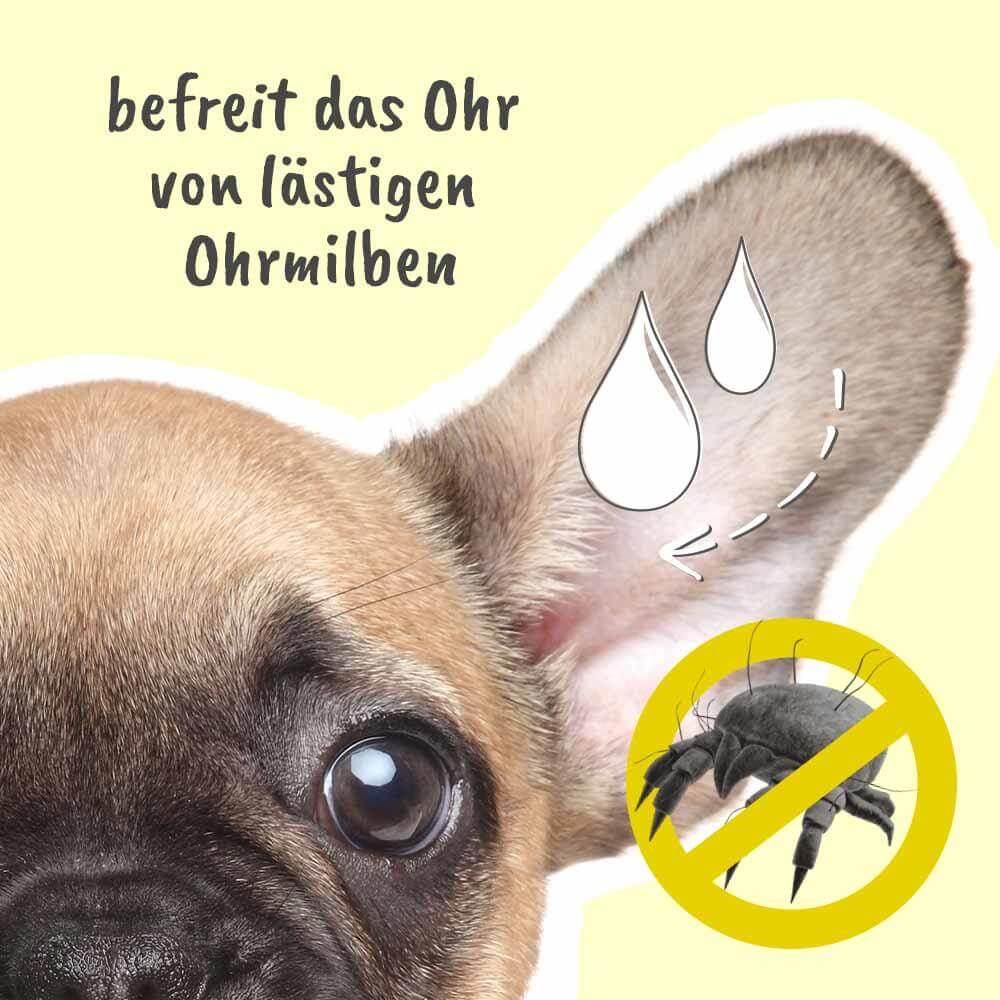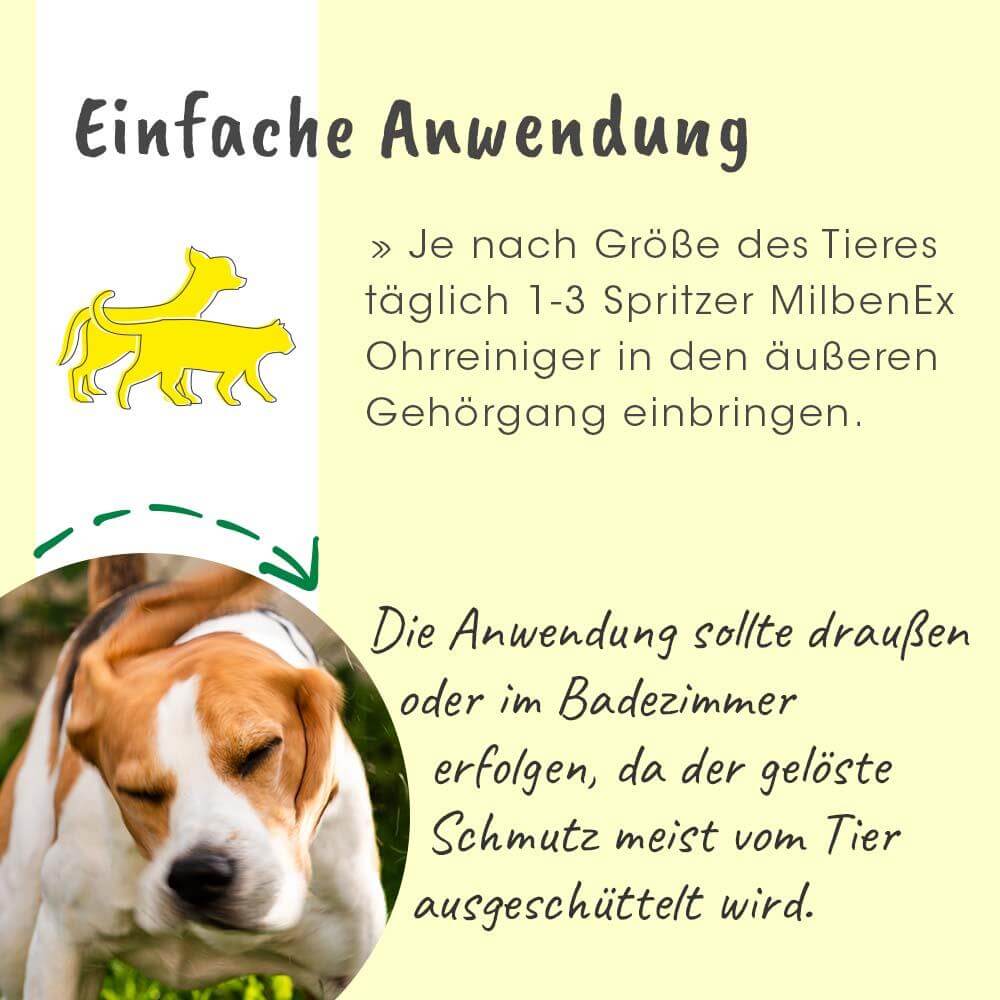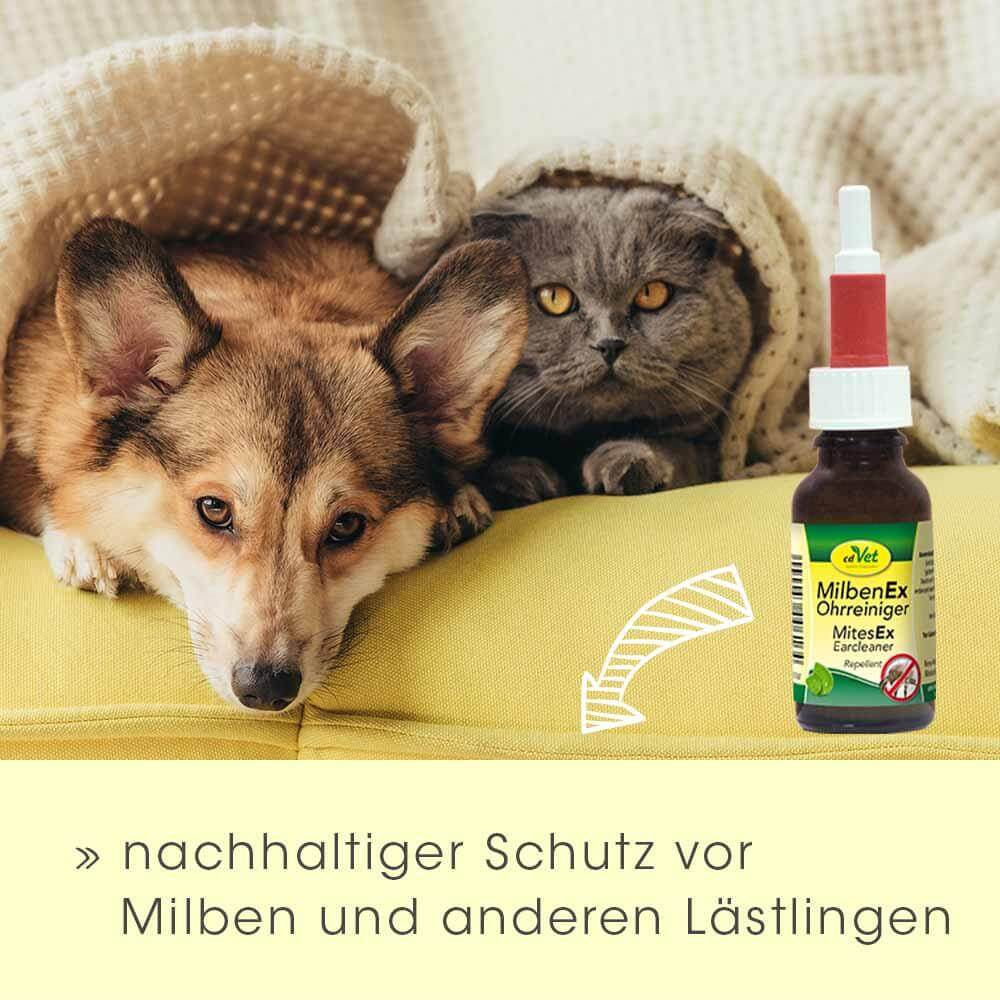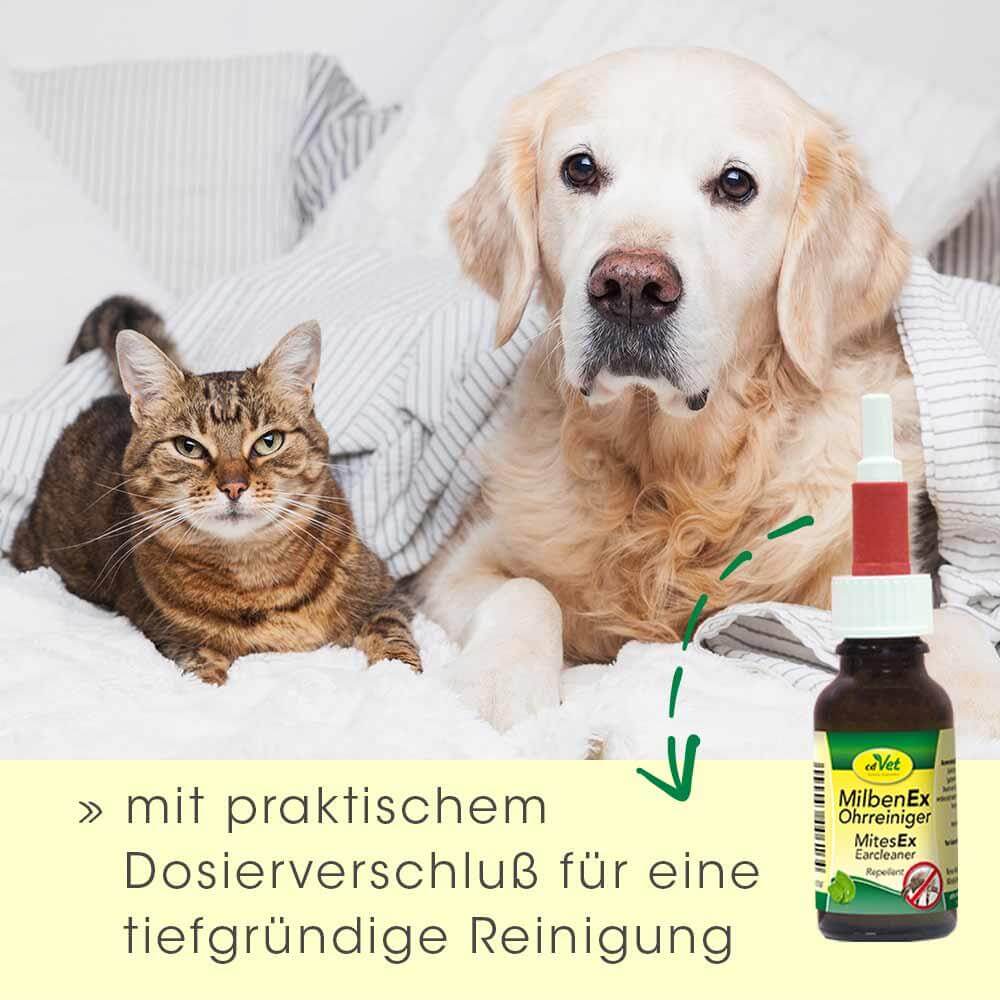 Bewährtes Mittel zur Reinigung der Ohren und des äußeren Gehörgangs von Katzen und Hunden und zum nachhaltigen Schutz vor Milben
€14.95*
Content:
0.02 Liter
(

€747.50

* / 1 Liter)
Available, delivery time: 1-3 days
Advantages

Flüssiges Mittel für Tiere zur Säuberung des äußeren Gehörgangs bei Milbenbefall - Auch für Katzen geeignet

Repellente Wirkung als Alternative zu herkömmlichen chemischen Mitteln und einfach in der Handhabung

Reinigt gündlich die Ohren von Hunden und Katzen und wehrt lästige Ohrmilben ab

Beliebte Rezeptur in cdVet-Qualität - von vielen Tierhalten empfohlen!

Bewährtes Produkt nach deutschem Qualitätsstandard - direkt vom Hersteller
Product information "MitesEx Ear Cleaner 20 ml"
Repellent
Drops against mites
MitesEx Ear Cleaner is a composition of essential oils to repel ear mites, clean, and care for irritated and sensitive external ear canals in dogs, cats, and other pets.
Ear mites are an unpleasant problem for our pets. The mites like to nest in the external auditory canal and the inner auricle. An infestation can be recognized by the often intense itching. The animals often shake their heads and may even scratch themselves bloody. Furthermore, large amounts of reddish-brown to black earwax are produced. If the mites are not expelled in time, secondary bacterial infections may occur. MitesEx Ear Cleaner repels these pests without unnecessarily burdening the organism with synthetic toxins.
frees the ear from mites

with the active ingredient from the leaves of lemon eucalyptus

suitable for young dogs, puppies, and cats

quick and easy application

dermatologically tested
Active substance: Eucalyptus citriodora oil hydrated, cyclized (EC Oil (H/C)) 100 g/L, BAuA Reg.-No.: N-84837. Origin of the active substance from the leaves of lemon eucalyptus
Application recommendation: Shake before use. Keep the animal's head slightly lowered (ear canal direction) and apply 1-3 squirts of MitesEx Ear Cleaner daily into the external ear canal, depending on the size of the animal. Careful massaging can further improve the cleaning and care effect. The gently dissolved dirt and earwax is then shaken out by the animal on its own.
Application time: 1 x daily for 3 weeks, then 1-2 x per week until improvement. 1 squirt = ca. 0.2 ml.
Storage not below 18°C.
WARNING • Contains citronellol. May produce an allergic reaction. Causes serious eye irritation. Keep out of reach of children. Wear protective gloves/protective clothing/eye protection/face protection. IF IN EYES: Rinse cautiously with water for several minutes. Remove contact lenses, if present and easy to do. Continue rinsing. If eye irritation persists: Get medical advice/attention. Dispose of contents/container to an authorized waste disposal site.
Use biocides safely. Always read the label and product information before use.
Feed Profile:

Silikonfrei

, Aktiv & Sport

, Mineralölfrei

, Parabenfrei

, Freizeit

, Zucht

Phase of life:

Junior

, Adult

, Senior

Produkt form:

Flüssig

Produk type:

Pflege & Hygiene

Special Requirements:

Milben-Abwehr

, Ohr

, Pflege

Species:

Hunde

, Katzen

insektoVet
Ob Nutz- oder Heimtier - die jahreszeitabhängige Heimsuchung von Zecken, Milben, Fliegen, Mücken, Bremsen, uvm. sind allen Tierhaltern gleichermaßen bekannt. Diese ungebetenen Besucher stechen, nisten sich in das Fell ein, saugen Blut und verursachen Juckreiz. Zum Teil übertragen sie sogar schwerwiegende Krankheiten oder können diese verstärken. Gängige Abwehrmittel wie Sprays, Cremes oder Ampullen haben fast alle Nachteile. Sie können z.B. eine kurze Wirkungsweise haben oder das Tier und seine Besitzer unnötig toxisch belasten. insektoVet-Produkte die am Tier zum Einsatz kommen, enthalten u.a. repellierende ätherische Öle und Inhaltsstoffe, die den Eigengeruch des Tieres geringfügig beeinflussen, und so die ungebetenen Besucher vom Stechen abhalten. Ebenso enthält die Serie zahlreiche Produkte zur Reinigung und Pflege der tierischen Umgebung in Haushalt, Stall und Garten.
Manufacturer website