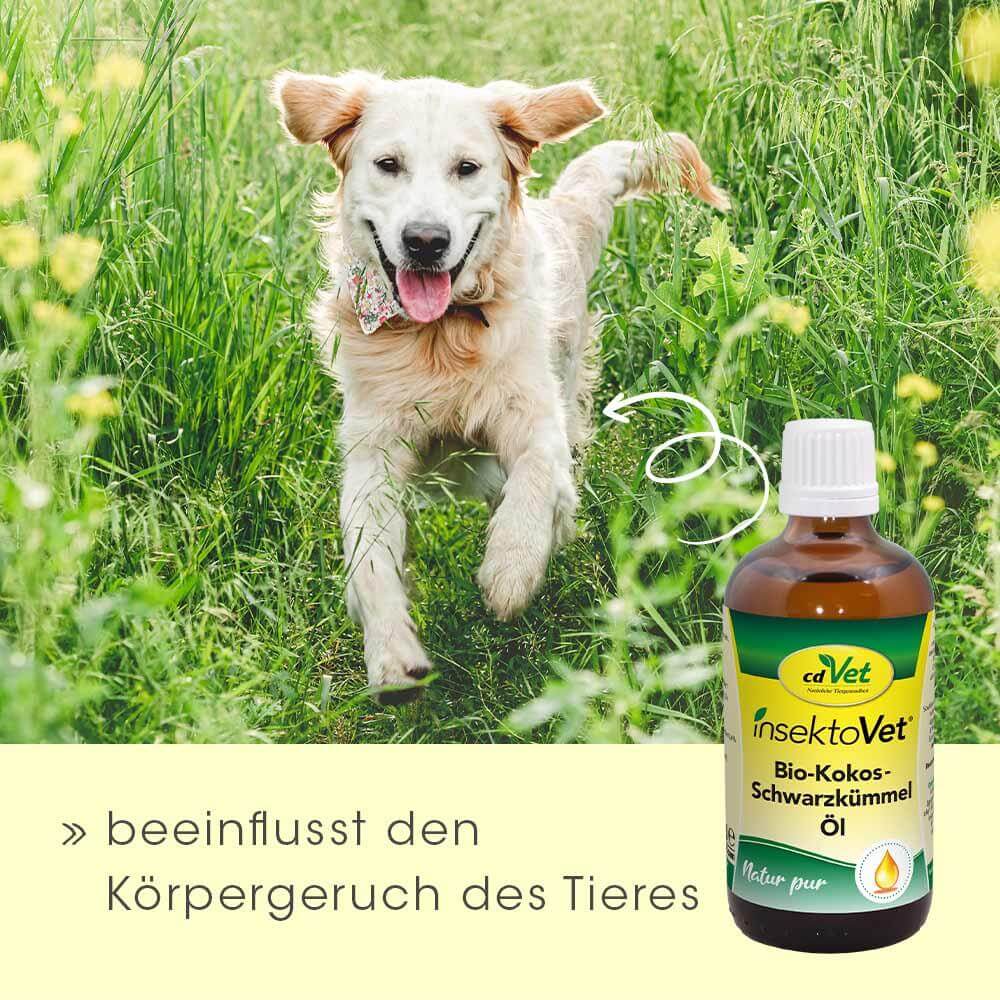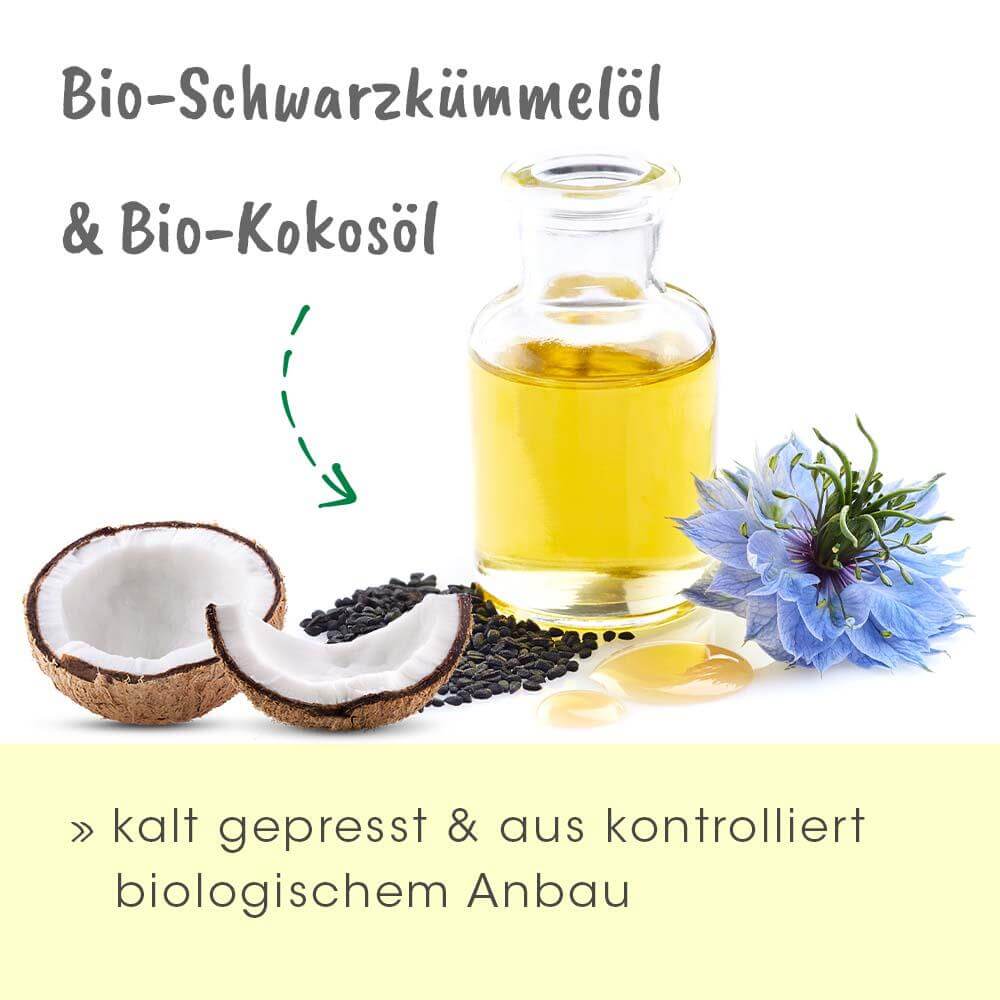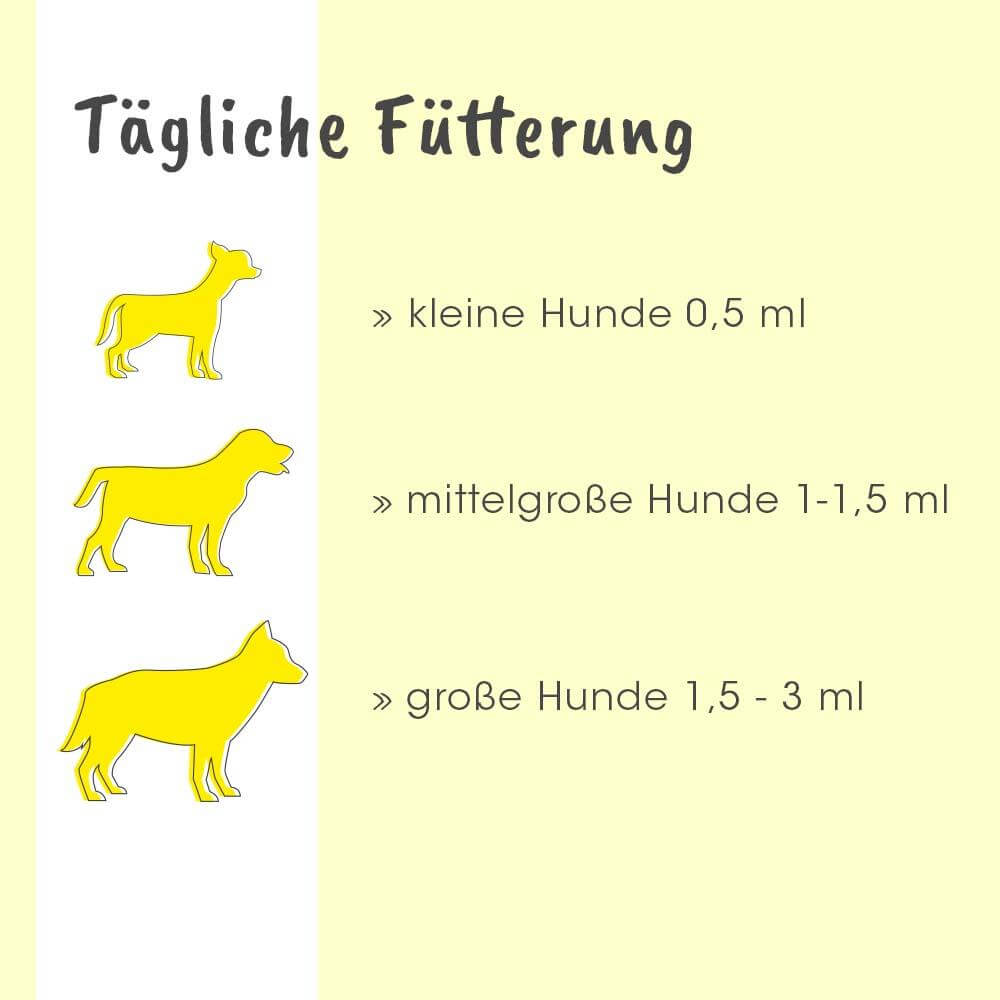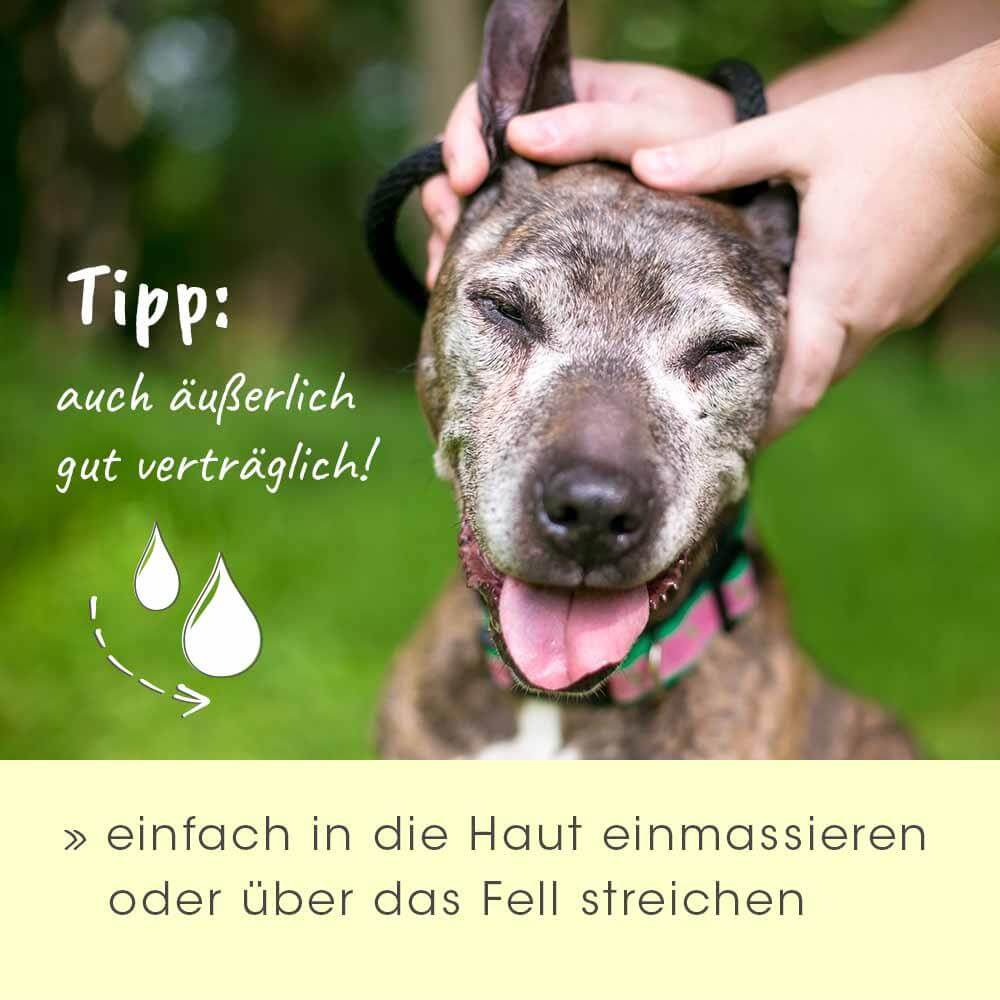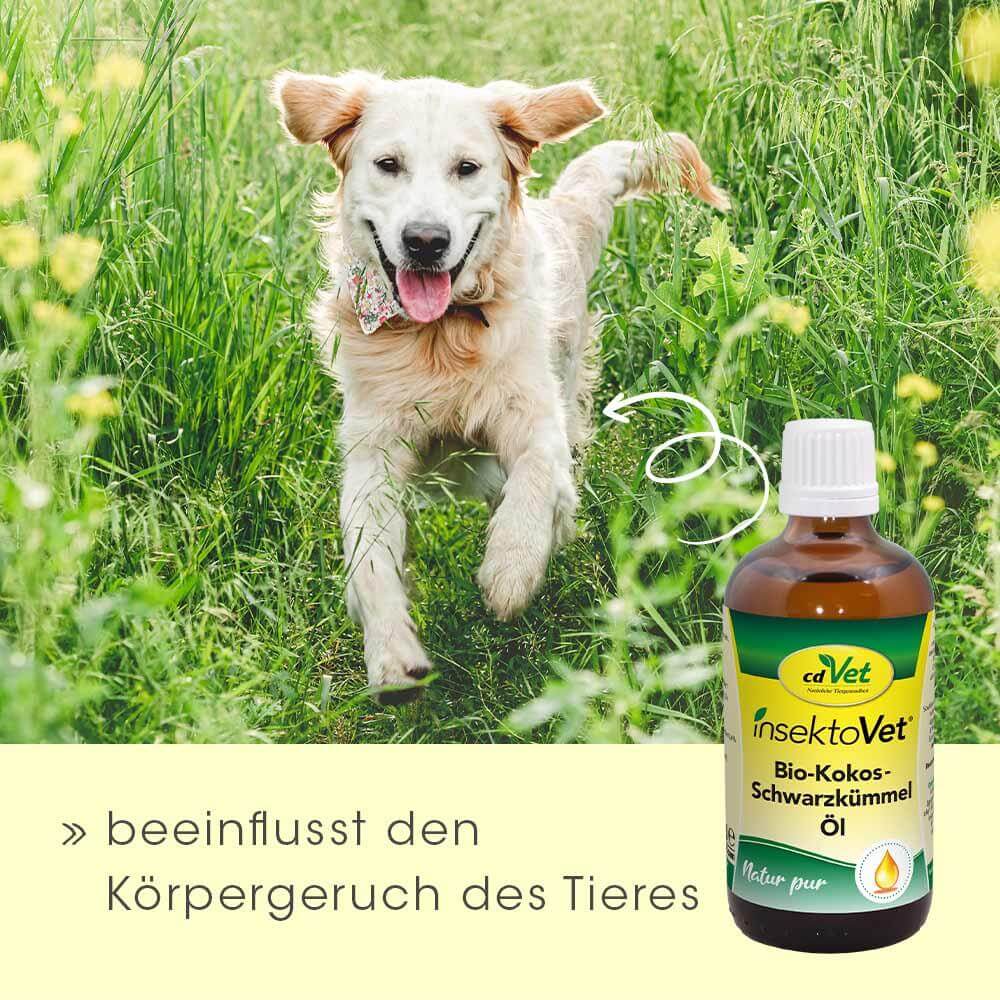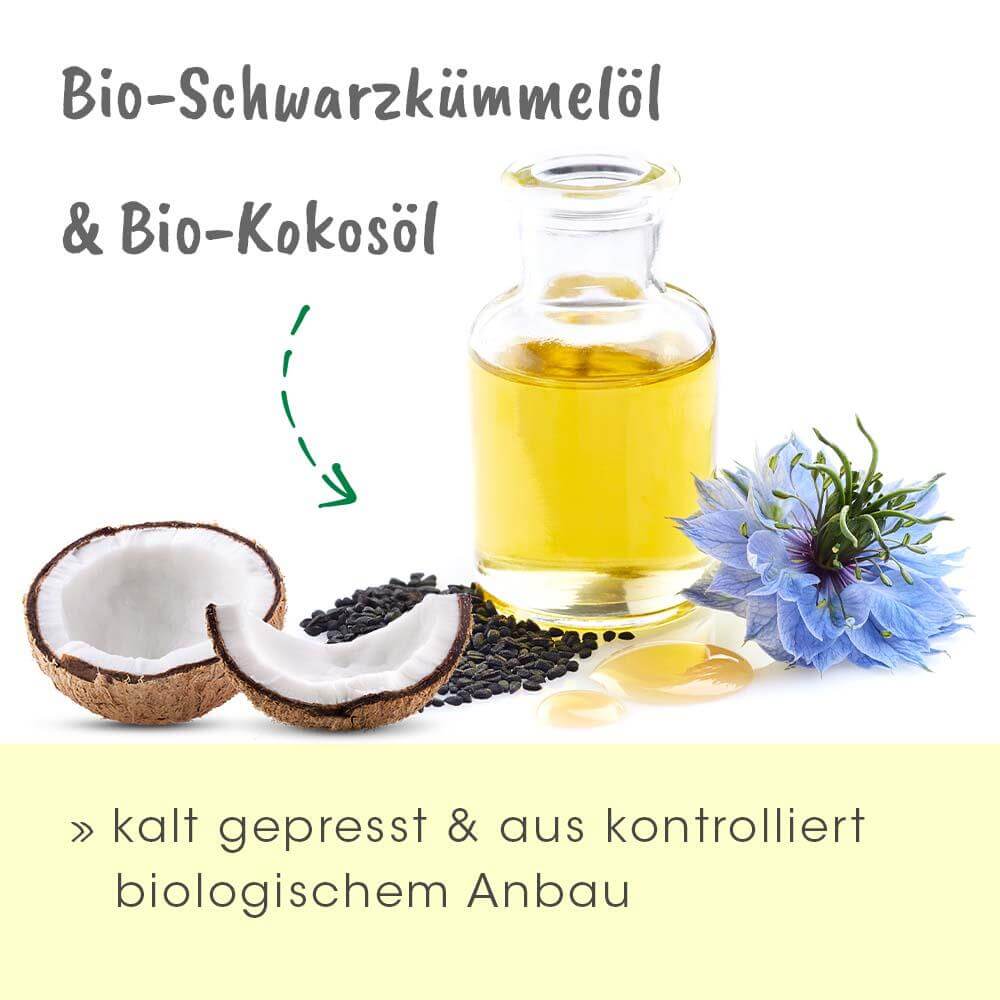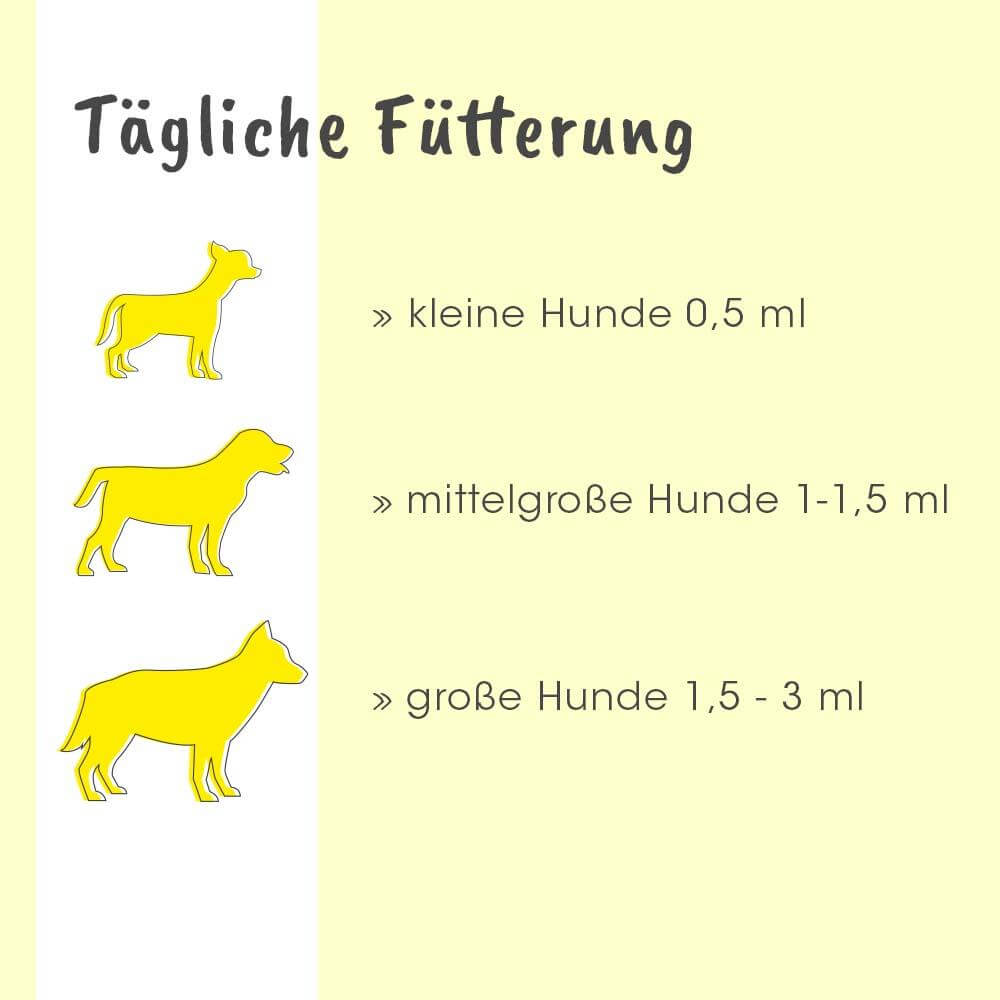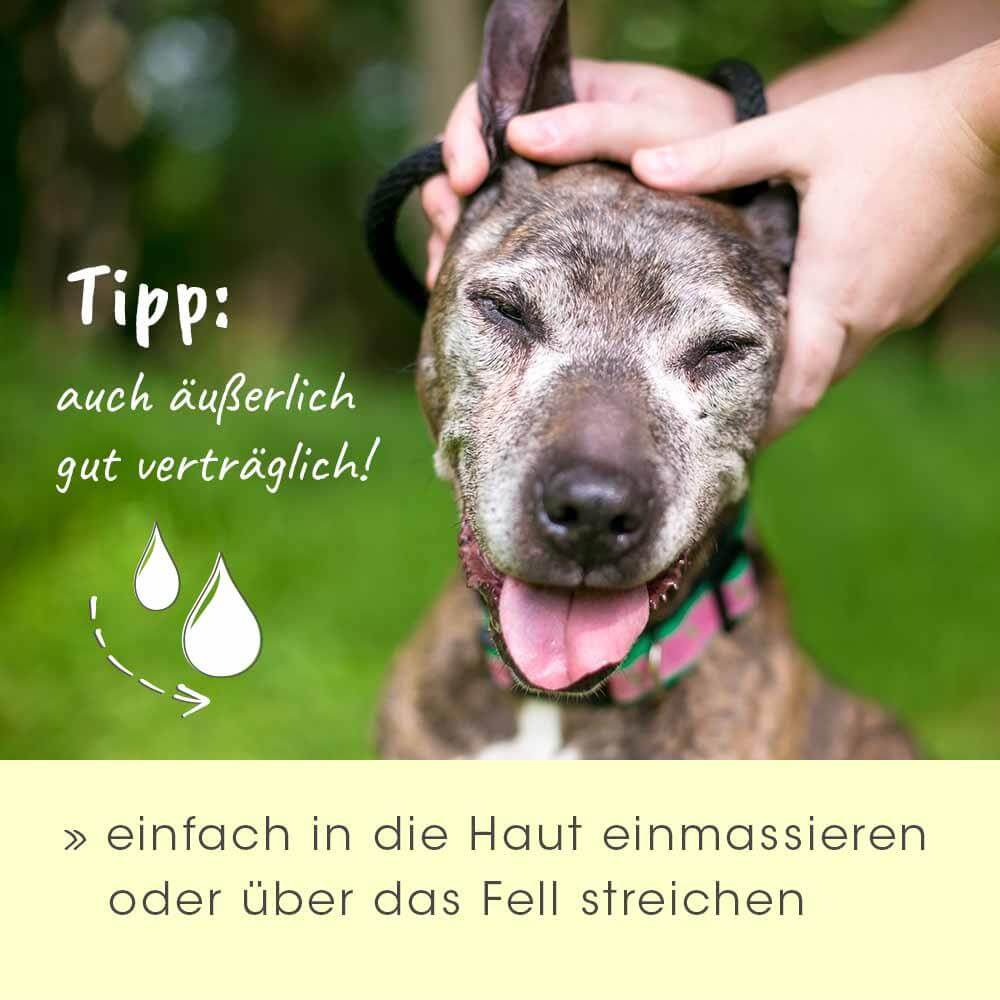 Fütterungsbedingte Unterstützung des Hautstoffwechsels, 100% natürlich
€10.95*
Content:
0.1 Liter
(

€109.50

* / 1 Liter)
Available, delivery time: 1-3 days
Product information "insektoVet Organic Coconut-Black Cumin-Oil 100 ml"
Complementary feed for dogs
Feeding-related support of the skin metabolism, 100% natural
In insektoVet Organic Coconut-Black Cumin-Oil, two classics are combined - organic black cumin oil and organic coconut oil. The essential fatty acids contained therein in combination with lauric acid and essential oils from black cumin can optimize skin metabolism and influence the body odor of the animal. In cell biological studies it could be shown that the resistance of the skin cells can be enhanced throughout the year by insektoVet Organic Coconut-Black Cumin-Oil. In particular, the barrier function of the skin cells is strengthened, which also has an important role in the natural regenerative power of the skin.
Due to the intestinal nurturing ingredients, the intestinal flora is supported in its balance, and the settlement of intestinal parasites is impeded. insektoVet Organic Coconut-Black Cumin-Oil is recommended for feeding and for the skin and coat care.
for internal & external use

organic oils - cold pressed & from controlled organic cultivation

rich in essential fatty acids

supports the skin and coat functionis an optimal addition to TickEx SpotOn & TickEx Spray
Expert tip: insektoVet Organic Coconut-Black Cumin-Oil is also well tolerated externally, if it is massaged into the skin or spread over the fur of the animal. Of course, insektoVet Coconut-Black Cumin-Oil can be combined with the cdVet biocidal products against ticks such as TickEx SpotOn and TickEx Spray.
Composition: coconut oil* 45%, Egyptian black cumin oil* 27%, sunflower oil*, hemp oil*, cold pressed. *from controlled organic cultivation, Eco-Control-Center DE-ÖKO-001, EU/non-EU agriculture
Analytical constituents and levels: crude protein 0.3%, crude fat 99.6%, crude fiber 0.5%, crude ash 0.4%
Feeding recommendation: daily, small dogs 0.5 ml, medium dogs 1-1.5 ml, large dogs 1.5-3 ml
Feed Profile:

Silikonfrei

, Aktiv & Sport

, Mineralölfrei

, Parabenfrei

, Freizeit

, Zucht

, BARF

Ingredients:

Hanf

, Kokosnuss

, Schwarzkümmel

, Sonnenblumenöl

Phase of life:

Junior

, Adult

, Senior

Produkt form:

Ölkomposition

, Öl

Produk type:

Ergänzungsfuttermittel

Special Requirements:

Fell

, Haut

, Parasitenabwehr

, Stumpfes Fell

, Zecken-Abwehr

Species:

Hunde

insektoVet
Ob Nutz- oder Heimtier - die jahreszeitabhängige Heimsuchung von Zecken, Milben, Fliegen, Mücken, Bremsen, uvm. sind allen Tierhaltern gleichermaßen bekannt. Diese ungebetenen Besucher stechen, nisten sich in das Fell ein, saugen Blut und verursachen Juckreiz. Zum Teil übertragen sie sogar schwerwiegende Krankheiten oder können diese verstärken. Gängige Abwehrmittel wie Sprays, Cremes oder Ampullen haben fast alle Nachteile. Sie können z.B. eine kurze Wirkungsweise haben oder das Tier und seine Besitzer unnötig toxisch belasten. insektoVet-Produkte die am Tier zum Einsatz kommen, enthalten u.a. repellierende ätherische Öle und Inhaltsstoffe, die den Eigengeruch des Tieres geringfügig beeinflussen, und so die ungebetenen Besucher vom Stechen abhalten. Ebenso enthält die Serie zahlreiche Produkte zur Reinigung und Pflege der tierischen Umgebung in Haushalt, Stall und Garten.
Manufacturer website